President Theodore Roosevelt addressed the Government Technology Conference's third annual Executive Leadership Institute in Austin, Texas, last Monday. Roosevelt, the 26th President of the United States and a distant cousin to Franklin D. Roosevelt, was portrayed by scholar and author Clay Jenkinson.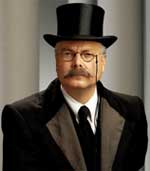 Roosevelt -- through Jenkinson -- provided an historical perspective to leadership that blended the wisdom of past experience with the realities facing government executives today.
Roosevelt as a child was asthmatic, nearly blind, and had a weak heart. Doctors advised a sedentary life. But Roosevelt and his parents had other plans. They chose "the strenuous life." The young Roosevelt threw himself into weight lifting, riding and swimming.
And in later life, when his mother and his wife died the same day, he went to the badlands of North Dakota to raise cattle and encountered new challenges. With his poor vision, He was not a good shot, and could not rope a cow. Even worse, he had a high-pitched voice with a Harvard accent, wore designer cowboy clothes from New York, and carried a knife fashioned by Tiffany. Needless to say, he was often the target of derision and ridicule. The men called him "four eyes" or "storm windows."
Later, as a public official, he acquired enemies. "I went on a safari with Kermit to Africa," said Roosevelt. "J.P. Morgan, my old enemy, said, 'we expect every lion to do its duty.'"
But Roosevelt made decisions and followed principles that bested obstacles, and made him a leader and a president. Jenkinson illustrated each principle with humorous and touching anecdotes from the president's life. One such principle, illustrated by "the strenuous life," was: "Never resign yourself to circumstance."
Roosevelt said a leader must be willing to fight on behalf of principle. When he was ridiculed by a cowhand, said Jenkinson, Roosevelt sprang up and, in a high-pitched voice, said: "Shut up, shake hands or fight." Instead of fighting, they became friends. "Do not seek quarrels," was the resulting maxim, "but when they come, hit back as hard as you can."
Roosevelt thought his liking for ordinary people was one of his strengths as a public figure. "You must have an emotional, even visceral communication with your constituents," said Roosevelt. "They are more important than men of power."
Other principles included such old-fashioned common sense as: "Never ask another to do what one is unwilling to do oneself; Shirk no duty no matter how onerous or objectionable; and never whine or complain."
Democracy requires responsibilities, said Roosevelt, and when his boat was stolen by several "ruffians" he pursued and captured them, then took them by himself on a six-day trip to the nearest sheriff. "Democracy cannot endure without a commitment to justice and a willingness to stay up night after night in a good cause," he said.
Roosevelt's principles took him into controversy as well. He seized the isthmus of Panama to build the Panama canal without Congressional approval because he thought the future of the United States depended on it. "I regard the Senate as a collection of angleworms," said Roosevelt. "If they don't like my leadership they can impeach me."
And Roosevelt supported James Blaine, a politician he regarded as a corrupt hack, rather than break away from the Republican party as the Mugwumps did. "I decided not to join them because my ability to do good would disappear," said Roosevelt. "Lincoln did more than all the abolitionists, because he worked within the system. I voted for Blaine, and campaigned for him too. If you are on a deserted island and need to build a boat, use the screwdriver and hatchet you have, and stop dreaming about saws."
But Roosevelt said the greatest quality in a leader is the capacity for joy. "If you do not like what you are doing, if it causes you stress or unhappiness, then you must get out. What you do with joy will infect others with cheerfulness and energy. What you do with gloom will make no difference whatsoever."
Clay Jenkinson
is a scholar and historian perhaps best noted for his portrayal of Thomas Jefferson. The Executive Leadership Institute was sponsored by EDS, Dell, MCI, Oracle, and Veritas.
GTC Southwest continues at the Austin Convention Center Wednesday and Thursday.