Speaking at the University of Washington Thursday morning, Microsoft CEO Steve Ballmer said his company is going "all in" on the cloud and betting its future on the opportunities he believes the cloud will present.
Microsoft has been expanding its cloud presence of late through offerings like cloud service Windows Azure, Xbox Live, and the forthcoming Office 2010, which Microsoft says will be available in the cloud in its entirety. Last week the company also announced it was launching a dedicated cloud for the public sector.
In his speech, Ballmer outlined what he believes the cloud is and why it has become a cornerstone of Microsoft's future. Ballmer segmented the cloud into five dimensions.
1. The cloud creates opportunities and responsibilities.
2. The cloud learns and helps you learn, decide and take action.
3. The cloud enhances your social and professional interactions.
4. The cloud wants smarter devices.
5. The cloud drives server advances that, in turn, drive the cloud.
The Cloud Must Learn

Ballmer explained that because the cloud is a digital entity, it's growing and learning and needs to continue to do so to survive.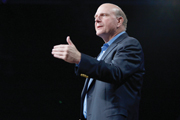 "The cloud needs to learn about you. And it needs to keep learning and figuring things out about the world," he said. "The ability of the cloud to learn from the data that's out there, and learn from me what I'm interested in, is not what it will be three, four, five years from now."
Increasingly the cloud will also become people's preferred method of managing their professional and private lives, Ballmer said, becoming "the place of innovation that lets us pull our lives together the way we want to." But Ballmer also predicted the lines separating our professional and private lives will become increasingly blurred.
Privacy matters in the cloud were addressed by both Ballmer and audience members. Ballmer said that as Microsoft shifts its business focus toward cloud computing, the company has a responsibility to be a leader on the security side.
In regard to the fifth cloud dimension -- advances in server technology -- Ballmer said "everything we think about server hardware and server software now needs to change." He explained that server hardware and software need to evolve to allow creators to rapidly deploy their products at scales that may fluctuate daily.
How people access the cloud is also important, Ballmer said. Presently the type of device a person uses to access the cloud does matter. Ballmer said that Microsoft aims to transform all of its software and hardware devices, even Windows, into the sort of smarter programs and devices the cloud craves.
"The inspiration for what we're doing now starts with the cloud," Ballmer said. "This is the bet, if you will, for our company. This is the time, the opportunity -- and the cloud forms the basis. For the cloud, we're all in."