How do you protect more than 80,000 people from an odorless, colorless threat that could kill them within minutes? That was the challenge facing the Oregon communities neighboring the U.S. Army's Umatilla Chemical Depot, one of eight national chemical weapons depots stockpiling mustard gas and other deadly munitions.
Their response to this threat may be one of the most comprehensive and technically innovative evacuation control systems in the nation. By 2004, local officials had created a massive wireless network, a series of "overpressurized" shelters, a software modeling program that tracks airborne chemicals and a tone-alert radio system that sounds voice messages during a hazard.
From perches in any of three command centers, officials can override the lights and signs on local highways, activate drop-arm barricades, and update message signs in Spanish and English. With the flip of a switch, emergency management officials can direct residents out of the local area if there's a chemical leak, and monitor roadways via remote-controlled cameras. The evacuation system also includes a video-conferencing setup that enables officials to converse in real time with officials from other parts of Oregon and with first responders working in the field.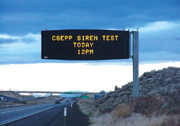 Photo: With a flip of a switch from an official in a command center, message signs are activated to alert residents to a drill or real disaster. Photo courtesy of Morrow County, Ore., Emergency Management Agency.
"We didn't have the time like you would during a conventional evacuation, like a hurricane, to spend two days getting people ready and setting up roads they would take," said Casey Beard, director of the Morrow County Emergency Management Agency, which operates one of the region's three command centers. "We had to be able to instantly reconfigure our transportation network to move people away from the threat area."
View Full Story