To increase recycling in municipalities, sometimes it takes more than just encouraging citizens to be environmentally friendly. Incentive-based recycling may have a strange ring to it -- especially to the ears of city officials -- but that's what some cities are doing to discourage citizens from throwing away recyclables. By reducing the amount of waste cities must dump at landfills, they save money in tipping fees while encouraging residents to be environmental stewards. Tipping fees are charges paid to landfills based on the volume of waste.
Adding an incentive to recycling was the idea Ron Gonen had in 2005 when he co-founded RecycleBank -- a program that tracks how many pounds a household recycles in order to offer incentives, like coupons and discounts at local businesses and restaurants, to residents.
Gonen, also RecycleBank's CEO, said the inspiration behind the program was developing a business model that showed people that being environmentally conscious was not just the right thing to do, but also a good way to save money.
RecycleBank installs bar codes or radio frequency identification (RFID) tags on recycling carts, which enable them to be scanned and linked to the coordinating address. Participating cities' recycling pickup trucks are retrofitted with a mechanical arm that includes a scale and bar code/RFID scanner. "It picks up the cart, reads the chip, identifies how much your home recycled, and that's translated into RecycleBank Points," Gonen said. "They can log on to our Web site [www.recyclebank.com], and it's just like looking at your bank statement: It tells you how much they recycled each week and how many RecycleBank Points they earned."
Gonen said more than 75 cities participate in the program and service was recently launched in the UK.
Recycling Evolves
In June, Westland, Mich., implemented RecycleBank as its first curbside recycling program and has already found a significant increase in how much its citizens recycle. "The last couple years we have had a drop-off recycling center program that was averaging about 90 tons a month of recyclables, and that had pretty much leveled off," said the city's mayor, William Wild. "Our first month with RecycleBank picking up recyclables at the curb, that number went up to 550 tons."
However, Westland launched curbside recycling and RecycleBank simultaneously so no data exists regarding what tonnage curbside recycling would have generated without RecycleBank. Wild added that the city pays about $30 per ton to landfill trash, and in the first month the city diverted about one-third of its solid waste from the landfill.
Wild was looking for a new recycling program because single-stream recycling -- where different recyclables, like glass, plastic and paper, can be mixed in one container -- became available in Westland. "I knew that it was easy now, and I knew that we needed some way to give our residents an incentive to do it. And that was where the RecycleBank program really helped us out," he said. "Also what was beautiful about it was that we're able to give our residents an incentive to recycle and help our local economy."
Westland deployed approximately 28,000 bar-coded recycling carts to single-family households. In the first month, 99 percent of the possible participating residents registered their carts with RecycleBank, he said.
The program tracks the amount recycled for each pickup route and averages the number per household to evenly distribute the points to all participating residences on the route. Wild said this is to garner maximum participation. "I wanted folks to be rewarded just for participating," he said. "What I didn't want was for a senior citizen who maybe puts out five pounds a week and gets 2.5 RecycleBank Points per pound to be discouraged by a family of five next
door when they put out 25 or 30 pounds."
The program has been called "the city of Westland's economic stimulus plan," Wild said. If each household earns the maximum points per year, he said there's the opportunity to inject more than $11 million into the local economy annually.
Although RecycleBank manages the Web site and rewards program, it provides the city with a breakdown of how much households are recycling. Wild said this lets the city focus educational efforts on specific neighborhoods or pickup routes.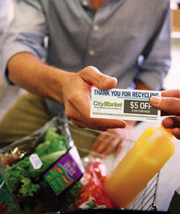 Photo courtesy of RecycleBank
Streamlining the System
Recycling from home wasn't a new concept to North Miami, Fla., citizens, who separated plastic and paper into two recycling totes. However, in 2008 the city replaced the totes with 96-gallon carts to take advantage of the new single-stream recycling facility in Miami-Dade County, according to Pam Solomon, public information officer for the city.
RecycleBank outfitted 9,200 of the new carts with bar codes. As of press time, approximately 29 percent of the eligible residents had registered their carts with the program's Web site. Solomon said the city is increasing its marketing efforts to boost activation, but one barrier it faces is educating its diverse community. She praised the program for having customer service support and education materials in Spanish and English, but one-third of North Miami's citizens speak Creole. Outreach materials are being created for the Creole community, but Solomon said the RecycleBank concept can be difficult to explain in another language.
According to Solomon, before implementing the program, North Miami picked up about 30 tons of recyclables per month. Now on average 170 tons per month are picked up. However, the city hasn't seen the savings in landfill fees that it was anticipating. "We haven't really seen a large decrease in the garbage, which is what we were expecting when the recycling materials are removed from the waste stream," she said. "We are removing 170 tons from our garbage technically, but we still haven't seen a large decrease in the amount of garbage that we're picking up."
Solomon attributed this to residents being able to recycle materials that they weren't able to before the single-stream recycling plant opened, like phone books.
North Miami officials elected to weigh the recyclables at each residence, instead of averaging the total amount per pickup route like Westland. "In those deployments, the equity is not there because you could have a super recycler who's really trying to go green, and then you have somebody who's not even participating and they're getting the same amount of points," Solomon said. "We wanted to make them an incentive and have it really up to each household."
Payment Through Prevention
RecycleBank handles the technology cost and installation, and in return the cities pay the program a percentage of how much they saved by reducing the amount of waste taken to the landfill. "We look at the amount of waste we've diverted from the landfill and how much that city saved," Gonen said. "And we get a percentage of the savings."
North Miami entered into a five-year contract with RecycleBank, and when the contract was created, a baseline was set to serve as the basis for the amount of money the city saves by diverting waste from the landfill. The city's baseline is 40 tons of recyclables, Solomon said. For example, in July the city collected 170 tons of recyclables, the baseline is subtracted from the month's total, producing 130 tons of increased recycling. The 130 tons is multiplied by the $57 per ton tipping fee that the city would've paid the landfill -- North Miami saved $7,410 on tipping fees in July. RecycleBank receives a percentage of that savings -- in the first two years it gets 50 percent, 40 percent in years three and four, and 35 percent in year five.
Cheaters Beware
What stops participants from filling their carts with heavy, nonrecyclable materials to earn extra points? Gonen said there's no reason to cheat because participants can earn a maximum of 450 points, and if they recycle they'll reach that number.
But just in case a resident dares to throw trash in the recycling cart, RecycleBank installs a button on the pickup truck that sanitation workers can press if the cart has nonrecyclables in it. When the button's pushed, the system is informed to send a letter to the rule breaker notifying him or her that nonrecyclable material was found. "We've actually helped cities reduce the amount of contamination by automating the regulating of decontamination," Gonen said.