State and local governments vexed by the relentless need to continually design their Web sites for multiple browsers have a new challenge: the recent release of Internet Explorer (IE) 8, which is expected to cause even more problems.
Apparently IE's rollout "may cause content written for previous versions of Internet Explorer to display differently than intended," according Nick MacKechnie, a senior technical account manager for Microsoft.
Granted, the impending havoc, which began in May with IE 8's official release, probably would've been even worse in the heyday of IE, when the browser was pretty much the only game in town.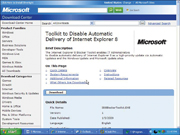 But even without complete market dominance, the changeover is expected to have a major impact. More than two-thirds (68 percent) of all PCs still use IE as of December 2008, according to a study by market watcher Net Applications.
And while rival browsers are gaining steadily, they're still very far back in the pack. Firefox, Microsoft's primary challenger, still only has a 21 percent market share, according to the study. And Mac's Safari browser clocks in at less than 8 percent. Meanwhile, Google's much-touted Chrome browser barely makes a blip, with just 1 percent of the market share.
Fending off Microsoft
As with many upgrades instituted by Microsoft, most governments may not be able to "defend" against this latest version of IE because the new browser is being distributed by Microsoft as an automatic update. Essentially one day you'll have IE 7 on your machine, and the next morning you may walk in to find the new IE 8 interface staring back at you - like it or not.
View Full Story