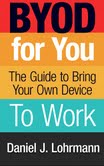 I am excited to announce the release of my new eBook on the hot topic of mobile technology and specifically bringing your own device to work (BYOD). As described yesterday by Sarah Rich in this piece called BYOD Recommendations and Dilemmas, the focus of the book is to provide a guide for employees who use their own smartphone, tablet or other mobile device for both personal and professional tasks.
The new eBook is called BYOD for You: The Guide to Bring Your Own Device to Work. The specific details on the eBook, as well the introduction, can be found at the "BYOD for You" book website: www.byod4u.com or Facebook.com/byod4u.
This blog is intended to cover some of the background regarding the eBook. Here are some of the most common questions I've received over the past week:
1) Why did you write a book on BYOD for end users or the average employee?
Answer: There are plenty of technical articles, books and white papers on BYOD for enterprises architects, security geeks, technology experts or others who implement policies for large enterprises. However, this is the first book that I know of that is written specifically for the employees who own the device. I wanted to take a different perspective and offer options for whatever situation the reader is currently in – from a novice employee who quietly brings their own device to work to a smartphone guru who has been bringing their own device to work for a while.
2) What topics does the book cover?
Answer: After explaining some basic terms and concepts involved in bringing your own device to work, I cover the top areas that need to be thought through before an employee brings their own smartphone, tablet or other personal device to work. The topics include: assessing your own environment, work policies, security, privacy, mobile device management (MDM), financial aspects (show me the money), ethical considerations and how to develop your own personal BYOD plan.
3) Why didn't you name the book "BYOD for Dummies?"
Answer: I've never felt comfortable with the "for dummies" book title, as it tends to have a negative connotation. Someone will probably write a book called "BYOD for Dummies" at some point down the road, since it is a good marketing term in the tech world for introductions on various topics. Nevertheless, my readers are smart, and I like the phrase "for you" better than "for employees."
4) Describe what you mean by "assessing your own environment" or "developing your own BYOD plan." How can that be done with such a wide divergence in policies and end user work situations around the country?
Answer: One of the unique challenges in writing this book was to answer that very question. I decided to create three different levels that I call "gold, silver and bronze options" for each topic.
Recent surveys suggest that the majority of employees who currently bring their own device to work do not have (or are not aware of) their employer's policy regarding BYOD. These end users have taken matters into their own hands in order to gain efficiency, ease of use or other personal and professional benefits. Typically, these staff feel as if they are on their own regarding security, privacy and other aspects of BYOD. The bronze options offer advice to this group in each critical area.
On the other extreme, the gold options are available to employees who work for companies with strong BYOD policies, full mobile device management technology (MDM) in place, financial incentives to bring their own device to work and good training available to BYOD adopters.
5) Why is BYOD such an hot topic right now? Why is this the time for employees to take a deeper look at their own mobile situation?
Answer: Here's how I start the book's introduction…
A radical change is sweeping across American workplaces: mobile
technology is redefining the boundaries between work life, home life and play.
The "digital generation" is demanding more freedom and flexibility
with their smartphones and tablet PCs in order to get their jobs done faster
and more accurately both in the office and on the go. Whether their motivation
is improving performance, enhancing personal convenience or because employers
are encouraging productivity enhancements, more people than ever are bringing
their own devices (BYOD) to work.
6) Why release this eBook now? Aren't there many unanswered questions on BYOD?
Answer: There is no doubt that we don't have all the answers yet for BYOD, but my goal in this book is meet our customers where they are at right now. I recently wrote a blog for CSO Magazine which made the case that BYOD is the New WiFi. My point was that security and technology professionals, including me, can be very good at offering policy standards and goals that employees and enterprises must meet, without offering practical steps they can take to improve security in their current situation.
Yes, we will need improvements in MDM technology, new mobile device hypervisors and more. But most of all, technology and security pros need to embrace BYOD today and become part of the solution to existing BYOD problems at home and work. Answers must include people, process and technology changes.
Whether you read the book or not, I'd love to hear your thoughts and concerns on BYOD. Feel free to leave a comment on this blog or on LinkedIn under the group "BYOD for You."
Looking for the latest gov tech news as it happens? Subscribe to GT newsletters.