Concerns about accuracy and trustworthiness have dogged electronic voting systems since their inception. Local governments throughout the United States began adopting direct recording electronic (DRE) voting machines in the early 2000s, and controversy soon followed.
The devices typically let users register their votes by pressing a button or touching a screen, eliminating paper ballots. But the lack of a paper trail and the potential for tampering with ballot results made many government officials and industry experts nervous.
"If the results are inaccurate, how do we know? We have to rely on the supplier to be able to do the right thing," said Brian Prentice, a research vice president with Gartner's Emerging Trends and Technologies Group.
In May 2004, California's then-Secretary of State Kevin Shelley banned four counties from using e-voting machines and ordered 10 more to improve the machines' security and reliability. That same year, blank ballots were erroneously recorded for 134 Florida voters who used e-voting machines.
In August 2006, Pennsylvania voters sued their state to challenge the certification of DRE voting systems used in 56 counties. Their allegations included claims that the machines at times lost votes, counted votes twice and registered votes for one candidate when voters had voted for another.
"There certainly are people who have been skeptical about whether their vote is counted properly," said current California Secretary of State Debra Bowen, who set strict limits on the use of DREs throughout California in August 2007, citing troubling security flaws in the systems.
"Transparency, in general, helps give people a greater sense of security," she said.
Casting Glass Ballots
Now it appears some of that transparency may be taking root. A California-based nonprofit is creating a suite of open source election software that lets users view and modify the underlying computer code. Proponents of the approach say exposing the code used by e-voting machines allows a worldwide community of experts to evaluate the security of the code and make beneficial modifications.
In October 2009, the nonprofit Open Source Digital Voting (OSDV) Foundation made the computer code for its election system available on the Web. The foundation also plans to make other open-source election tools available this year through its Trust the Vote initiative.
"I think it's very interesting that as we run into some of these problems with voting systems, that individuals in organizations are saying we can solve this transparency problem by open-sourcing the code base. I think that is a great approach to try to deal with this problem," Prentice said.
Open source activity marks a shift for an industry that has been dominated by proprietary solutions. The market has been controlled for years by a handful of manufacturers like Smartmatic, Sequoia Voting Systems, Hart InterCivic and the gigantic Election Systems and Software (ES&S), which claims to have serviced 50 percent of votes in the nation's last four elections. In fall 2009, ES&S purchased another player, Premier Election Solutions, formerly known as Diebold Election Systems to grow even larger.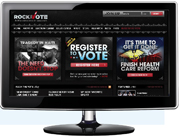 Rock the Vote aims to engage and build political power for young people to achieve progressive change in the United States. Any U.S. citizen can register to vote at www.rockthevote.com.
Ambitious Plans
The OSDV's Trust the Vote project is developing an open source software suite designed to manage elections, from voter registration to the announcement of a winner, said Greg Miller, the foundation's chief development officer. Miller said the project, which relies on a team of volunteer technologists within the OSDV and from the private sector and higher education, is gaining
support from technology industry heavyweights.
"Companies like HP, IBM, Intel and Oracle are coming to us and saying, 'We don't have any interest in making or selling voting equipment, but we think what you are doing with the Trust The Vote project is something that's just hugely important from the sense of good will and common good,'" Miller said. "We're working with them on individual projects and assignments where their researchers are collaborating with our guys to come up with real innovations in how these pieces of the system work."
The OSDV developers already have built an online open source voter registration tool for Rock the Vote, which the organization hopes will make registration easier for younger citizens.
"It's not just a registration tool that's simple for the user, it's also one that can simplify and have much greater implications for how our elections work and really modernizing our current election system," said Heather Smith, Rock the Vote's executive director.
The OSDV also has a series of Web-based data management services that are deployed or in the prototype phase. The services include: a ballot design studio, which is a visual tool for ballot creation; a citizen voter registration tool; a state voter management system for jurisdictions to manage voter rolls and registration updates; and an election manager application to handle data on candidates, precincts, elections, districts and ballot definitions. Each application was built on LAMP (Linux, Apache, MySQL, Perl) platforms.
Furthermore, the project will create dedicated, non-networked devices designed for specific purposes. They include a precinct ballot counter to scan paper ballots for errors, a central ballot counter for election officials to scan ballots, a digital voting interface for voters, a ballot tabulator and an auditor that generates electronic records of activity from the other devices in the system. Many of these tools are still in the concept phase.
"We're not writing research papers alone," Miller said. "We're certainly not doing any lobbying. We're not writing legislative position papers. We're not a think tank. We're actually out there building stuff, and that's what makes us unique."
Industry Unlocks
In 2008, The New York Times reported that Diebold, prior to its acquisition by ES&S, was considering opening its code in future software iterations to appease customers. Calls and e-mails to ES&S from Government Technology magazine regarding the organization's stance on open source voting technology have not been returned.
But one proprietary voting-machine vendor is indeed making its code more visible. In December, Sequoia began posting code for its voting systems online, a move that makes the company unique among proprietary vendors in the market, said Michelle Shafer, Sequoia's vice president of communications and external affairs.
"That's a brand-new step for any voting system manufacturer, to release the code for their entire system or really any part of it - code that is going to be put through the federal voting system certification process," she said. "That hasn't been done before in the election space, and it's something that we feel is a revolutionary step."
Unlike the open source efforts, Sequoia's code is disclosed, but not open. Anyone can view the code and comment on it, but Sequoia owns the license and is the only entity that can make modifications.
"Our company employs a large development department dedicated to the production of both software and hardware," Shafer said. "So we're not opening our source code to collaborative volunteer development, but instead we're making our source code publicly available for inspection to increase the transparency of the product."
But Miller contended that proprietary technology clashes with the need for voting transparency.
"When you're a company who has a shareholder interest to maintain, and your competitive advantage is predicated on
trade secrets and other intellectual property mechanisms, then you're going to resort to black box technology to protect your competitive advantage," he said. "Well, black box technology doesn't work in a world that demands 'glass box' technology, and when shareholder interests collide with public interest, that's a train wreck."
And, although suites of proprietary election products are convenient, they can come with strings attached too.
"I would think from a vendor's perspective, they probably feel like once they're into a county, it's their county, they own it and any future upgrades are going to be provided by them," said Paul Miller, senior technical and policy analyst in Washington state's Elections Division.
Paul Miller, who's of no relation to the OSDV's Greg Miller, said this vendor lock-in can make it difficult for a county that wants to make a switch. "They've had to make decisions of either, 'All right, the voting system I'm using today, I'm just going to have to scrap it and my relationship with that vendor [and] go get another one,' or, 'I have to get this additional equipment that I need from the same vendor that I have everything else with,'" he said.
Gaining Traction
The OSDV's Greg Miller said California, Washington, Oregon, New York, Connecticut, New Hampshire, Vermont and North Dakota are participating in the initiative.
"We have a core group of eight states that we're working with in our so-called stakeholder community. They are driving our requirements and specifications," he said. "What we're building is stuff designed to reflect the requirements and needs that they want if they were able to have a system of their dreams - that's the beauty."
And not all jurisdictions have the same dream when it comes to the ideal election system. They each have different needs so custom, modular tools might actually eliminate some headaches - or make them less severe.
"I look at California," Bowen said. "We have Los Angeles County, which is the largest single election administration jurisdiction in the country, and then we have Alpine County with a population of 1,200. Alpine County just doesn't have the same needs from a process standpoint as Los Angeles County. If you can do a voter registration module and ballot definition module and a ballot layout module, then it's possible to use the parts of it that make sense for your particular jurisdiction."
According to Greg Miller, the OSDV's suite of tools will be customizable. "The idea is you build a framework that you can easily and rapidly tune, tweak and modify for state-specific requirements," he said. "By doing that, we then have something that will work for the majority of jurisdictions and still allows them to tune it to their individual needs, but will have a baseline of technology design that is consistent across all jurisdictions."
That flexibility could be crucial in the highly fragmented market for voting systems.
"The voting system market is not very functional because there are so many differences from jurisdiction to jurisdiction," Bowen said, which results in a lot of custom software. "That means it's very expensive, and it's hard for citizens to monitor because there are so many variations. Even if you had access to the code, it's still hard if you have 50 different sets of rules just at the state level alone, never mind if counties are allowed to do things differently."
Greg Miller hopes that the OSDV will have all of its election components in place and a system that's ready for federal certification by the 2016 general election.
Open Playing Fields
Mitch Kapor, a software developer who helped found Lotus Software in 1982, is an adviser for the OSDV effort. He contends that open source technology will reduce voter disenfranchisement.
"We know there are significant issues with people's trust in the voting system," he said, adding that organizations currently spend too much money and time tending to voting irregularities as they pop up.
"That's like a very expensive form of treatment of symptoms for a system that is not entirely healthy," he said. "And the point of building more robust elections management software, from registration all the way through to the other end, is that it's an investment in prevention - and an ounce of prevention is worth a pound of cure."
For that to happen, however, open source efforts need to engage an active group of contributors. That engagement will be crucial to the success of the OSDV's effort, said Gartner's Prentice. "Will they be able to attract a community of people to make contributions and maintain that code to the point that it's actually a viable system?" he asked.
While the industry waits to see what happens, perhaps the voters will be the ultimate winners.
"There's such a value to be gained by opening things up, and I think the only way ultimately that you increase trust is to show people what's in the box," Bowen said. "'Trust me' doesn't work for a lot of things in government, and it particularly doesn't work for a voting system."
Looking for the latest gov tech news as it happens? Subscribe to GT newsletters.