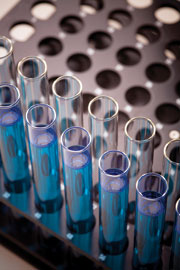 While DNA evidence can help law enforcement resolve open cases, mistakes in analyzing that evidence do get made. These mistakes cost innocent people wrongfully incarcerated years of their lives they can't get back. Investigations have found serious errors in cases handled by crime labs in Washington, North Carolina and Virginia. In addition, California, Minnesota, Pennsylvania and Nevada have documented major problems recently.
To help address some of the issues with crime labs' testing of DNA evidence, the U.S. Department of Justice Office of Justice Programs (OJP) late last week awarded grants to help five states take another look at DNA evidence in cases where it may prove actual innocence. Texas, Arizona, Washington, Kentucky and Virginia were awarded a total of more than $7.8 million to help defray costs associated reviewing cases of forcible rape, murder, and non-negligent manslaughter.
"Post-conviction DNA testing has received significant attention in recent years with the arrival of forensic DNA analysis," said OJP Acting Assistant Attorney General Jeffrey L. Sedgwick. "More than two hundred people have been exonerated through DNA analysis of crime scene evidence that was not tested at the time of trial. These awards are another important step in implementing the President's DNA Initiative in an effort to protect the innocent and to bring the guilty to justice."
The President's DNA Initiative, Advancing Justice through DNA Technology, provides funding, training, and assistance to ensure that forensic DNA reaches its full potential to solve crimes, protect the innocent, and identify missing persons. DNA testing is not only a predominant forensic technique for identifying criminals, but has become a method of post-conviction exoneration of the innocent. DNA testing makes it possible to obtain conclusive results in cases in which previous testing had been inconclusive or non-existent.
Administered by OJP's National Institute of Justice (NIJ), the awards are the first to be provided through OJP's Post Conviction Testing Assistance Program, which requires recipient states to comply with improved standards regarding biological evidence storage and testing procedures. Texas received a $500,000 grant, Arizona received a $1.3 million grant, Washington received a $250,000 grant, Kentucky received a $1.1 million grant and Virginia received a $4.5 million grant.
The grants were awarded based on the number of violent crimes reported to the FBI from the state for 2006, and the amount of previous grant awards made under the Forensic Casework DNA Backlog Reduction Programs for fiscal years 2005 and 2006 which remained unobligated.
At the end of the project period, public crime laboratories receiving fiscal year 2008 Forensic DNA Backlog Reduction funding are expected to demonstrate improvements over current operations in forensic DNA casework backlog reduction and/or crime laboratory capacity enhancement for DNA analysis, including:
A reduction in the average number of days between submission of DNA evidence samples to the applicant's forensic science laboratory (or laboratories) and the delivery of DNA test results to the requesting office or agency.
An increase in the number of forensic DNA samples processed per analyst per month. 
A reduction in the applicant's backlog of forensic DNA casework.
The state of Texas plans to use the funds to increase the number of cases for review and reduce the backlog of case reviews through increased staffing and equipment. The state's four public law schools, University of Houston, University of Texas, Texas Tech University, and Texas Southern University are eligible to receive award funds to sustain their work in investigating claims of innocence by incarcerated individuals who cannot afford legal representation.
The state of Arizona, in partnership with the Arizona Justice Project, plans to use the funds to support a comprehensive review of Arizona's
inmate population to locate unresolved eligible cases where biological evidence is present and post-conviction DNA analysis is needed. Arizona currently has no backlog of post-conviction cases,
The state of Washington plans to use the grant funds to hire forensics staff, to support the review of post-conviction cases, and to pay for DNA analysis. In partnership with the Innocence Project Northwest, the Washington State Patrol will review an estimated 200 case files and an estimated 145 inmate requests for review of eligible post-conviction cases.
The state of Kentucky, in partnership with the Kentucky Innocence Project, plans to use the award for resources required to review cases identified as potential wrongful convictions. Kentucky will use the funds to hire attorneys and investigators, purchase necessary equipment and investigate biological evidence from eligible post-conviction cases.
The state of Virginia plans to use the grant funds to support the review of an estimated 2,200 post-conviction cases, with as many as 5,600 DNA samples being subjected to testing and analysis. Virginia's Department of Forensic Sciences (VDFS) proposes using VDFS DNA analysts on an overtime basis to conduct the data review of resulting eligible cases.
In total, the National Institute of Justice expects to award over $56 million to state and local governments. Other permissible uses of these funds include validating new DNA analysis technologies and upgrading, replacing, and purchasing laboratory equipment, instrumentation, and computer hardware or software (e.g., LIMS or expert systems) for forensic DNA analyses and data management.