The 19th World Conference on Disaster Management wrapped today in Toronto, Canada after a robust two-and-a-half-day program that covered the full spectrum of disaster management issues. The focus this year was on climate change, natural disasters, pandemic planning, the economic crisis and community resiliency - a rather wide range of issues which to some extent reflected current concerns of the international disaster management community.
In previous years, I usually have come away from the conference with a clear impression of how disaster management priorities were evolving. After SARS, it was the inevitability of a global pandemic. "It wasn't a question of if, but when" became the mantra. 9/11 moved terrorism center stage for a couple of years. Katrina shifted focus to natural disasters and the increasing number of extreme weather events as a result of climate change.
This year, however, the overall message was more complex. You don't have to look further than the current economic crisis or recent H1N1 outbreak for proof that the world is becoming a riskier place on many different fronts. Moreover, many threats are occurring on a global basis and that requires a more coordinated global response. This increasing complexity was the key take-away for me. As one keynoter, John Merkovsky, Global Leader of March Inc.'s Risk Consulting Practice, noted, businesses, communities and governments have become so interconnected through technology and travel that it is no longer feasible to manage risk independently.
"Now, more than ever, it's time to break out of the box and learn from each other," said Adrian Gordon, president of the Canadian Centre for Emergency Preparedness, which organizes the conference each year. "Instead of chasing the next risk of the day, we need to be more proactive, working together to create an infrastructure capable of responding to a wide range of risks."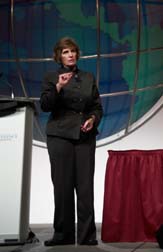 Photo: Regina Phelps, president of EMS Solutions Inc. presenting at WCDM 2009.
I expected the current pandemic to dominate much of the discussion, but this wasn't the case - perhaps in part because many of the speakers originally scheduled to address this issue had to cancel. They were caught up with handling the pandemic in their hospitals or jurisdictions. Some of the networking conversations I overheard between sessions did delve into nuts and bolts problems, such as union issues, in current pandemic planning. Virtually every emergency manager in the Northern hemisphere, I imagine, has been tasked with developing a pandemic plan for this fall's H1N1 onslaught.
However, the sobering reality, as one speaker, Regina Phelps, president of EMS Solutions Inc., emphasized, was that no one knew at this point what was going to happen by the autumn - especially if the H1N1 virus would mutate to a more deadly version of itself. The sobering news was that even when we know the form the virus will take for the upcoming influenza season (which typical starts around Oct. 1 in the Northern hemisphere) and can develop a vaccine, global vaccine production facilities are only capable of producing enough vaccine for 30 percent of the world's population - and that requires a full year's production.
In many ways, the highlights of the conference this year were several presentations on the increasing impact of social networking sites like Twitter, MySpace and Facebook on disaster management and emergency operations. It was these sessions which were packed to standing room only and brought a flood of questions.
"Social media is going to revolutionize the way we communicate during a crisis," explained Jeannette Sutton, research coordinator at the Natural Hazards Center, University of Colorado and one of the more interesting presenters. "Public officials can't stop it. They can't control it. So the best they can do is
figure out a strategy so they can start interacting with it." (We will be featuring more on this in the next couple of weeks.)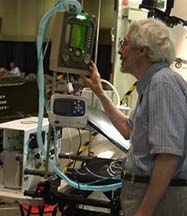 Photo: Paul Weinberg, Digital Communities contributor and blogger, examines one of the trade show displays - a rapid deployment field hospital - at the WCDM trade show.
Such new tools certainly add to the complexity of managing a crisis. And with the incidents of disasters growing worldwide - from natural occurrences like hurricanes, earthquakes and flood, to pandemic outbreaks and acts of terrorism - disaster management has become a major industry worldwide. There are thousands of products and services designed to help business, governments and the public to respond to the next catastrophe.
Navigating through all this to develop realistic plans is challenging to say the least.