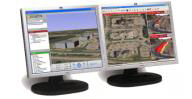 Guardian Solutions has demonstrated the first totally geo-spatial video surveillance system called GView. It incorporates patent-pending technology that upgrades a digital video recording (DVR) surveillance system to a 3D situation awareness system for rapid threat detection and understanding. As the DVR records video events, GView isolates and tracks threats (individual, vehicle, vessel) and, through Google Earth, displays all movements on a 3D site model for a bird's eye view of all "at risk" assets.
GView enables the mass market to gain the benefits of situation awareness as a tool in stopping vandalism and defeating malicious activities such as sabotage and terrorism. Guardian's focus has been to provide intelligent video at a fraction of the price of competitors. Now by utilizing Google Earth, Guardian is enabling the mass market to build and utilize 3D situation awareness models for $100's and not the $10,000's charged for custom models.
By marrying intelligent video surveillance with Google Earth, GView automates threat detection. Guards never loose sight of a threat for GView automatically detects and tracks intruders from PTZ to PTZ camera. The underlying intelligent video technology within GView controls all cameras within a unified geo-spatial approach for defining, prioritizing, detecting and tracking threats.
It enables PTZ cameras to rapidly tour a site and learn normal scene activity and rapidly differentiate abnormal (suspicious) activity. When a pre-defined security policy or procedure is breached, the user's DVR is triggered to increase its recording speed and GView is triggered to display all events and targets on a 3D Google Earth display. The GView system support 1000's of sensors and 100's of users.