With $3.1 trillion being injected annually into the U.S. economy through waterborne commerce, it's surprising that it wasn't until after Sept. 11, 2001, that security officials began thinking about how a terrorist attack on a port would affect the nation. The $3.1 trillion figure from the American Association of Port Authorities is a startling reminder of ports' importance to the economy. The association also reported that port activities in 2007 accounted for $31.2 billion in federal, state and local tax revenue.
Before 9/11, port security mainly focused on keeping cargo safe, and the threat of terrorists using the waterfront to hurt the United States wasn't on most security officials' lists of urgent items for preparedness.
"Security prior to 9/11 was more about cargo theft and pilferage than it was about access control and knowing who's coming in and out of our terminals and facilities," said Bethann Rooney, manager of port security for The Port Authority of New York and New Jersey. "So there was a paradigm shift in terms of security before and after 9/11."
During the past eight years, port security has evolved to include new technologies and regulations. Ports also have been identified as part of the nation's critical infrastructure, and innovative steps have been taken to ensure their safety.
"To a degree, it's like screening passengers in that you're looking for the needle in the haystack of what bad things could exist out there -- anywhere from radiation types of materials to an actual nuclear device to a bioweapon," said Eric Holdeman, consultant and former director of the King County, Wash., Office of Emergency Management.
Ports are a unique environment to secure. They are open environments by nature because cargo can't move unless people have access to the terminals, Rooney said. Security involves not only the port facility, she said, but also the vessels and waterways. Coordination is a key facet of port security because the responsibilities for different components -- like facilities, vessels and crew member security -- reside with different partners.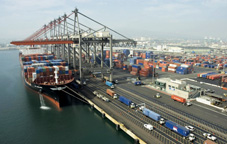 Photo: Port complex of Los Angeles and Long Beach, Calif. Photo courtesy of Charles Csavossy/U.S. Customs and Border Protection
Security Paradigm Shift
Before 9/11, Rooney said physical security at ports was minimal. Many ports -- including The Port Authority of New York and New Jersey -- lacked security professionals and instead were monitored by a law enforcement agency that covered traditional criminal issues. She said the N.Y. /N.J. port still has a Port Authority Police Department, but positions have been added to develop infrastructure security, emergency management planning and security plans. "[Pre-9/11] it was more the tactical security and law enforcement as opposed to the strategic planning and the day-to-day operational stuff," Rooney said.
The Maritime Transportation Security Act that former President George W. Bush signed went into effect July 1, 2004, spearheaded more port security changes. "We were required to conduct assessments, write facility security plans, appoint facility security officers, and then comply with a set of performance-based regulations for securing your perimeter, controlling access, monitoring activities, and screening and inspecting cargo, vehicles and personnel," Rooney said.
The act also required the establishment of Area Maritime Security Committees that include federal, state and local government entities and the boating industry. The committees collaborate on port security plans and ensure cohesiveness among stakeholders. For The Port Authority of New York and New Jersey, this meant collaboration among private companies that each had an every-man-for-himself security philosophy, Rooney said. "Coordinating 190 private companies and 50 or 60 federal, state and local agencies was very difficult, but we achieved it through the Area Maritime Security Committee," she said. "We
took another step through this committee and wrote what we called the Portwide Strategic Emergency Management Plan." It was completed about four years ago and allowed the entities to stop competing for funding and focus on the port's most serious security risks.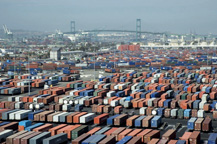 Photo: Port complex of Los Angeles and Long Beach, Calif. Photo courtesy of Charles Csavossy/U.S. Customs and Border Protection
Technology Evolves
The creation of emergency management positions and committees wasn't the only security response to 9/11. Technology was also launched. Immediately there was a rush to purchase security cameras, said Cosmo Perrone, director of security for the Port of Long Beach, Calif.
The complex that houses the ports of Long Beach and Los Angeles handles 40 to 45 percent of the nation's imported containers, and most U.S. regions are affected by its movement of goods, Perrone said. So it's important for the complex to have up-to-date security, and the technology has evolved since the first cameras were installed at U.S. ports.
Perrone said new technologies allow the Port of Long Beach to not only monitor security above the water, but also underwater. The port is preparing to deploy a sonar system that will sweep underwater and look for any changes or abnormalities. The sonar system will be deployed at fixed locations called chokepoints -- narrow passages that vessels pass through.
Currently the port has remotely operated submersibles that utilize video and sonar capabilities to let security officials look behind piers and check hazards. This work is done before a diver enters the water to physically see if something is awry.
The Long Beach port also uses a radar system that detects transponders that the cargo vessels are required to carry. The transponders relay information that identifies the vessel and where it's located. Due to the security issues concerning small crafts, the port opted for a military-grade radar system that can identify the movements and speeds of small crafts that lack transponders. "With combining sonar and radar, we have coverage of a significant area of the approaches to the port," Perrone said.
The cameras, radar and sonar are integrated. When the sonar detects something abnormal, Perrone said the radar automatically begins to scan for small crafts and the cameras zoom in and scan the water's surface for bubbles that would indicate a diver in the water.
The Port of Long Beach also is testing a radio frequency identification (RFID) system. Bar codes attached to boats work as radio transmitters, and an active RFID reader picks up the boats' signals. This is important for the port because it shares the water with recreational boaters; the RFID tags let officials verify what boats are in the area.
"The cost-benefit analysis and the ability to keep the goods moving -- that is, how do the security systems interfere with the movement of goods -- is a major concern, so we're always looking for those that allow the movement of goods to be uninterrupted," Perrone said.
Nonintrusive Cargo Inspection
The nation's ports are aided by many federal agencies, but the U.S. Customs and Border Protection (CBP) provides inspection technologies and officers for the security endeavor. One type of technology the CBP uses is nonintrusive inspection devices, which rely on large-scale imaging systems.
"They generate an X-ray-like picture or image of the contents of a shipping container without actually opening it up," said Patrick Simmons, director of the Non-Intrusive Inspection Technologies Division within the CBP. "It gives us a very good view of what's inside the container. For instance, we can spot weapons; we can spot very good indicators that may be indicative of weapons of mass destruction
or very dense objects that might replicate shielding of a nuclear device."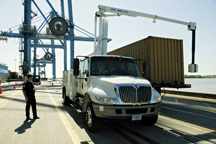 Photo: Mobile truck X-ray unit/Photo courtesy of James R. Tourtellotte/U.S. Customs and Border Protection
One of the X-ray systems is set up so that a truck moving cargo from the port will drive under the machine. The driver activates the system after the cab is past the inspection area to protect the driver from radiation. The truck is then driven at 5 mph and the system scans the cargo. Another nonintrusive system is mobile; the containers are lined up in a row on the port and the X-ray system is built into a vehicle that drives over the cargo.
"It's kind of like that game you played when you were a kid: 'What Doesn't Belong.' So if the shipping manifest said 'bowling balls' and within the container you see round bowling ball, round bowling ball and then a dense square object, you would have to take a look at that and see what that dense object might actually be," Simmons said. "So the operators use these [nonintrusive inspection technologies] to scan containers and inspect each of the scans for items that look out of place."
Another type of CBP technology is radiation-detection devices that resemble a soccer goalpost and inspect the containers leaving the port while the trucks drive through them. If any of the cargo emits radiation, an alarm goes off and the CBP officer uses a handheld radiation isotope identifier to find the container and determine the isotope that's causing the alarm. Simmons said knowing the specific isotope allows the officers to see if anything in the shipment would warrant its use. For example, if radium is identified in the cargo, the officer would review the shipping manifest; if it said airplane parts, then it would be OK because radium is often used in airplane instrumentation.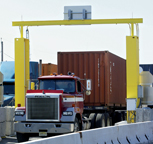 Photo: Radiation portal used by U.S. Customs and Border Protection to detect radiological weapons at ports/Photo courtesy ofGerald L. Nino/U.S. Customs and Border Protection
A CBP officer always operates the equipment, and there are both targeted and random inspections. Simmons said the targeted inspections are generated through an automated system and officers also determine if cargo should be searched based on its country of origin and other risk indicators.
He estimated that 73 nonintrusive inspection machines were in place before 9/11 and the number of them has increased to 232 as of press time. Simmons said he couldn't think of any U.S. port that wasn't using some form of the technology.
Securing Port Access
After 9/11 it became widely recognized that port officials should know who is entering secure areas. However, the nation lacked a standard on the procedure. The Maritime Transportation Security Act established the Transportation Worker Identification Credential (TWIC) program, which requires individuals who have unescorted access to secure port areas to obtain a security card. It's administered by the Transportation Security Administration (TSA) and U.S. Coast Guard in conjunction with the U.S. Department of Homeland Security. The deadline for implementation was April 14, but some ports were required to be compliant as early as Oct. 15, 2008.
The application process runs a comprehensive background check on individuals. People can be deemed ineligible for a TWIC based on their immigration status, a connection to terrorist activity, mental capacity or a conviction on certain crimes like treason or espionage. According to the TSA, more than 1 million people have been enrolled in the program nationwide as of press time.
The Unified Port of San Diego was the first port
on the West Coast to be TWIC-compliant, said Paul Libuda, facility security officer of the port. He said the port began outreach and education as early as January 2008 by holding meetings and issuing flyers about TWIC. Of approximately 1,600 port employees, 300 are enrolled in the program. Libuda said that number doesn't include the 125 to 150 credentialed law enforcement and harbor police officers.
"Overall, having the TWIC program in place makes the terminals more secure because you know who's coming on to the terminal," he said, later adding, "If they don't have a TWIC, but they have a bona fide business purpose to be on the terminal, they need to be escorted by a person who holds a TWIC."
Currently port security guards visually inspect the cards upon entry to the terminals. In the future, card readers will be installed at the ports that will cross-reference the worker's TWIC to an access list, Libuda said.
Long Beach's Perrone said his port and the Port of Los Angeles are participating in the field tests for the card-reader hardware. He said they will be testing to ensure that the readers work in the port environment and that they don't slow the movement of trucks or people.