Every so often, America embarks on a project so audacious that it hardly seems possible. Prime examples: the top-secret Manhattan Project that made the first operable atomic bomb, the construction of the country's interstate highway system starting in the 1950s, and President John F. Kennedy's challenge to land men on the moon.

These government-sponsored projects often arise during times of political or economic duress, and so it is today with the $4.5 billion of seed money for a nationwide "smart electricity grid" inserted in the economic recovery package that was approved by Congress shortly after President Barack Obama took the oath.

The leadership is pinning much of its hopes for America's long-term economic renewal on a nationwide, interconnected system of smart electricity meters and sensors that would increase energy efficiency, reliability, and also encourage "green" technologies like wind and solar generation and hybrid cars.

It won't be an easy feat. There are parallels between the country's attempt to build a new electricity network and astronaut Neil Armstrong's first steps on the moon, said Jim Marston, Texas regional director of the Environmental Defense Fund.

"NASA knew where they were trying to get and they knew where they were, and so after the goal was announced, they spent a little while figuring out the path to get there. Shortly after that, they actually put the engineering on the ground," Marston said.
Government's Pivotal Role
The smart grid, Marston said, is still in the planning stage, but more smart grid test projects are under way at the local level, in places like Miami; Austin, Texas; Massachusetts; and Southern California. State and local governments have facilitated many of these projects in partnership with nonprofits or technology vendors.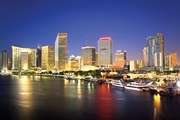 In April, Miami launched a $200 million smart grid project called Energy Smart Miami, with the goal of connecting almost all homes and businesses in Miami-Dade County to a smart grid by 2011. The project is being driven by the Florida Power & Light utility company, supported by General Electric and Cisco Systems. Much of the project will be funded by Obama's economic stimulus package.

Massachusetts is signing off on a few communities' smart grid pilots, which are mandated by the state's 2008 Green Communities Act. In one such test, 15,000 smart meters will be installed in homes in Worcester, Mass., by National Grid, a London-based electricity generator.

In Austin, Texas, the municipally owned utility company will finish deploying smart meters to the city's homes later this year. And a public-private initiative that includes the City Council has been formed to study how to best use the smart meters to transform Austin's energy infrastructure.

And Southern California Edison, one of the largest utility companies in the U.S., will install 5 million smart meters in its coverage area by 2012. Edison estimates that the smart meters will save peak power consumption that's the equivalent of one big power plant. The move toward smart grid is being motivated by California's renewable energy portfolio standard that requires electricity companies to get at least 20 percent of the power they distribute from renewable sources by 2010.
What's a Smart Grid?
Though regulators, politicians, vendors and environmentalists haven't come to a consensus on what exactly constitutes a smart grid, one of its core features will be "smart" electricity meters that integrate IT. Smart meters will be installed in homes, businesses and public buildings - virtually anywhere
there's a wall socket. Known in the power industry as "advanced metering infrastructure," a smart meter sends a constant stream of data back to the utility companies.

From the distribution side of the equation, a smart grid would give utilities much greater control, and the ability to minimize power outages and catastrophic failures. Many utility companies today don't have the IT on their grid to automatically detect where power is knocked out. They still rely on phone calls from affected customers. In addition, the smart grid would eliminate manual meter reading, which means no more trips into residents' backyards. In the future, an interconnected web of sensors could monitor the electricity grid and solve load-balancing issues and other problems before they cause an outage.

"They could actually do switching of the network remotely to first identify the outage, then switch around the outage, thereby lessening the number of people who are affected by the outage," said Guerry Waters, vice president of marketing and strategies for Oracle's Utilities Global Business Unit. "Understanding where that needs to occur and being able to do it quite rapidly would be advantageous to the electric industry."

From the consumer side, homeowners would conceivably save on their bills via a new class of products that would rely on two-way communication. Today a refrigerator can't "speak" to the electricity grid - communication, therefore, is only one way. But someday, powered by the grid's intelligence, a washing machine or thermostat could be programmed to only turn on when citywide demand is lowest. This could be achieved by redesigning the appliance itself or installing "smart plugs" at electrical sockets.

To make this new consumption model profitable, utility companies might adopt what are called "demand response" pricing models that charge users more per kilowatt-hour during peak demand and less when the electrical grid isn't burdened. Utility companies are already testing several prototypes of online, Web-based dashboards that give homeowners a near real-time look at how much electricity each appliance in their home is consuming, and the ability to turn appliances on and off based on that information.

A utility company itself could also turn off infrastructure in a home, and the possibilities extend beyond electricity, Waters said. "One that was very clear that [Oracle] talked about to the municipal water groups was leak detection. The other would be the ability to do automatic remote connects or disconnects, or restrictions on the water. ... The last one is having prepaid metering." Smart metering could also identify water abusers during droughts, he said.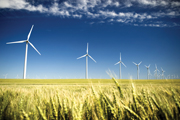 In the long term, the smart grid is also expected to help electricity generators make better use of renewable energy, like wind power and solar panels. The world's heightened awareness of global warming - and America's political will to cut down on imported oil - is expected to open up the proverbial floodgates for renewable energy. The U.S. economic stimulus package, by itself, is expected to spur an installed national capacity of wind power that's 67 percent greater than it would otherwise have been, according to the U.S. Department of Energy.

The issue at hand is that in the future, electricity generation is expected to be more decentralized and intermittent than it's traditionally been, when the bulk of electricity came from huge coal-fired power plants and nuclear reactors. Wind farms and solar panel arrays will be sprinkled across the country, and the smart grid will efficiently manage an electricity supply that's incoming from all directions, which isn't possible today.

Also, since wind and solar are intermittent power sources - they can start and stop abruptly - the smart grid would give utilities much-needed data about where the sun and wind is, so they could make informed
decisions about when to fire up a backup power plant to meet peak demand.

And if hybrid cars and electric vehicles ever hit the streets en masse, they could plug into the grid, too.

Finally the smart grid would be built on an IT backbone via hardware and software contained in sensors. Affixed to key junctures, like transformers and substations, these sensors would collect data and quickly correct potential problems. It remains to be seen if this information would be transmitted over power lines, proprietary-use networks, wireless technology or the Internet, Waters said.

"Today there is actually two-way communications going on in the electrical grid, but it's usually over some very protected circuitry and communications that are guarded very closely," he said. "So the idea now is that the utility industry will open up to have one common way to communicate with all the devices of the smart grid."

So in its simplest form, the smart grid will be composed of smart electricity meters, sensors and a grid that draws power from a system of generators that's more decentralized than it is today. The trick will be building that system atop today's antiquated grid, which can't be discarded outright because it can't be turned off.
Old and Always On
If Thomas Edison, who's credited with inventing centralized distribution of electricity, were to travel from his era in the early 1900s and arrive at present, he'd probably recognize many components of the modern-day U.S. electricity grid, writes author Nicholas Carr, in his newest book The Big Switch: Rewiring the World, from Edison to Google. On the other hand, Edison's contemporary Alexander Graham Bell - who invented the telephone - would be baffled by modern-day telecommunications.

"The interesting thing is that, by and large, the electricity grid in the U.S. is kind of the last of the ancient industries that has not yet been completely revamped," Tony Erickson, global utilities director for EDS, a subsidiary of Hewlett-Packard. "So this whole concept of smart grid is something that people have been talking about for 20 years, but we're just now kind of getting there."

In other words, the electricity grid is like a 100-year-old legacy system that's been left in the dust by telecom and the Internet. But it's not as cut-and-dry as replacing an old computer system, because turning off the electricity grid isn't an option and large-scale power outages can't be tolerated. When the Northeast Blackout of 2003 struck the Eastern seaboard and left 50 million people in the dark, the biggest power outage in North America's history cost the economy at least $6 billion.

The power industry and government regulators recognize that coming quickly to agreement on standards for the smart grid's equipment and IT will speed its construction, Erickson said. But the country can't wait for those standards to be written, Erickson said, because by the time they're approved, the technology - the smart grid - would be outdated.

"Several communities and organizations - government, private and commercial - are forming [smart grid] standards boards, and just like the battle between the Blu-ray and [high-definition] DVD format war, we'll see which ones win out," Erickson said. "Eventually I'm confident we will have open standards, because those standards will be what spur entrepreneurial people to create the technology that's going to help us drive this thing forward. So we're kind of building it in-flight, and we have to keep the lights on while we do this."

In the meantime, communities like Austin are launching their own smart grid projects.

In December, a coalition that included the Austin City Council; Austin Energy, the city-owned utility company; the University of Texas; the city's chamber of commerce; and the Environmental Defense Fund announced the Pecan Street Project, an initiative
to redesign every facet of Austin's energy infrastructure. A main focus of the project will be to figure out how to take advantage of Austin's smart meters.

The project will attempt to add more distributed renewable energy in Austin than currently exists elsewhere in the U.S., dramatically reduce the amount of energy that's consumed, and shift the energy that's consumed to be more coincident to the time that renewable energy is available. In addition, Marston said the stakeholders want to create a new business model that will allow electric companies to thrive - rather than just survive - in an environment in which less electricity is being sold, and distributors own less of the electricity that's being used.

"A big part of the project is smart grid, but it's not only smart grid. It's smart appliances, smart plugs as well as smart meters," Marston said. "The idea is we will use all of these technologies to dramatically reduce and shift load, and use consumer choice and even real-time rates to help that work."

The government side is what makes the project possible, he said.

"The municipal utility company, Austin Energy, is fairly unique because the board of directors is the City Council, so it's the same folks who also do land-use planning, zoning and building codes," Marston said. "So I think many of the things we'll be doing will not be directly at the utility, but putting a building code in, for example, that says all new homes, with a few exceptions, will have to have solar hot water heaters in them. For instance, we'll probably say all new parking garages in them will have to have discharging for plug-in hybrids."
Looking for the latest gov tech news as it happens? Subscribe to GT newsletters.