President Barack Obama has called on the U.S. to put 1 million electric vehicles (EVs) and plug-in hybrids on the road by 2015. But the country won't get anywhere close to that number until drivers are confident they can find places to recharging stations.
How best to deploy a network of charging stations and jump-start the market for EVs are questions at the heart of the EV Project, a two-year study in five states that will put drivers in thousands of all-electric cars starting late this year. The U.S. Department of Energy announced a $99.8 million grant to the project in August 2009.
While an efficient gas-powered car can run 350 miles or more on a 12-gallon fill up, a battery charge will take an all-electric vehicle only 100 to 200 miles. Most electric car drivers will recharge them at home or at work, but if they want to use their vehicles for more than just local trips, they will need to plug them in while out and about.
Fear of getting stranded if they drive too far makes many people leery of electric cars. "People already have 'range anxiety,'" said Colleen Crowninshield, manager of the Clean Cities Program at the Pima Association of Governments (PAG), in Tucson, Ariz., one of more than 40 partners in the EV Project.
Electric Transportation Engineering Corp. (eTec), a Phoenix-based developer of vehicle charging stations that heads the project consortium, will install 4,700 chargers in the homes and businesses of drivers who participate in the study, as well as 6,510 chargers in commercial and public locations.
For the study, Nissan North America will provide 4,700 of its new Nissan Leaf electric cars to consumers and fleet owners. Other partners include state and local governments, energy companies and other corporations and nonprofits, plus the Oak Ridge National Laboratory and Idaho National Laboratory. Participating regions are: Phoenix and Tucson, Ariz.; San Diego; Portland, Eugene, Salem and Corvallis, Ore.; Seattle; and Nashville, Knoxville and Chattanooga, Tenn.
New Infrastructure Focus
The market for EVs barely exists right now, but that's due to change in the next few years. According to Electric Vehicles: 10 Predictions for 2010, from Pike Research in Boulder, Colo., world sales of hybrid EVs, plug-in hybrids and pure EVs will total about 1.3 million by 2012. Forty-eight percent of those vehicles will be sold in the Asia-Pacific region, 38 percent in North America and 10 percent in Western Europe.
As Nissan and other automakers gear up to mass-produce electric cars, governments and companies worldwide are focusing on how to roll out a charging infrastructure to support those vehicles, said Donald Karner, CEO of eTec.
"With this project, we took the opportunity to develop a method to study the use of infrastructure," Karner said. Researchers will use the EV Project to try to learn, for example, how many public-access chargers a region needs to make drivers feel comfortable and how local utility rates affect the use of chargers.
The project also will explore which business models make it attractive for business owners and governments to install charging stations. Might a big box retailer offer charging for a fee, or give it away with a minimum purchase? Will business owners let concessionaires install chargers on their properties? Will drivers pay on the spot with cash or credit cards, or will they purchase subscriptions?
"We've never really had enough vehicles to test this," Karner said. "Until you have a field demonstration, you never know for sure what's going to work and what's not."
For Nissan, the project offers a chance to fine-tune its go-to-market strategy for the Leaf. "Are we going to get everything right? We hope so," said Tracy Woodard, director of government affairs at Nissan North America. "But we know that there are probably some kinks to be worked out."
Along with the five markets included in the EV Project, Nissan also plans to introduce the Leaf in several other cities, including Los Angeles, San Francisco and some on the East Coast, in late 2010 and early 2011, Woodard said.
Nissan has not yet announced a price for the Leaf, but it will be similar to the price of other family sedans with similar features, Woodard said. "The average MSRP [manufacturer's suggested retail price] right now for a car is about $29,000 -- so somewhere in that range," she said.
The Leaf will be cheaper to operate than a gas-powered car, Woodard said. "There's no oil change, there's very little maintenance." And the power required to run a Leaf costs about one-third what a driver would pay to run a gas-fueled car the same distance, she said.
eTec will install Level 2 chargers in participants' homes and businesses at no cost to users. A Level 2 unit fully charges the Leaf in four to eight hours. The public charging infrastructure will include a total of 6,250 Level 2 chargers and 260 Level 3 chargers. According to Nissan, a Level 3 unit will charge a Leaf to 80 percent of capacity in about 26 minutes.
Drivers in the study will let researchers collect data from their home chargers and cars, Karner said. The data will be aggregated so there's no threat to users' privacy, and made available for study through the Idaho National Laboratory.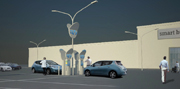 Electric Transportation Engineering Corp. will deploy more than 11,000 vehicle charging systems in Arizona, California, Oregon, Tennessee and Washington. Here is a charging station design concept produced by the company.
Tucson Gets Ready
In the Tucson area, the PAG Clean Cities Program has been working with local car dealers to promote the Leaf and with utilities to integrate the charging infrastructure into the power grid.
PAG also is encouraging businesses to install vehicle chargers. The first merchant to answer the call was the owner of Bookmans Entertainment Exchange, a six-location retail chain that broke ground on its third charging station in January. Bookmans bought its chargers not from eTec, but from Coulomb Technologies of Campbell, Calif.
Bookmans will underwrite the cost of the power that drivers obtain at its charging stations, Crowninshield said. Other merchants and shopping center owners will likely do the same, she said. After all, drivers will have time on their hands while their batteries recharge. "So what are they going to do? They're going to go in and shop." That makes the charger at the store a marketing tool.
PAG Clean Cities is working especially hard to get shopping mall owners to install chargers in Casa Grande, midway between Tucson and Phoenix on Interstate 10. "That's going to be the long haul that people are going to be most afraid of," Crowninshield said. "We want to make sure that we install plenty of infrastructure between the two cities, so people can get back and forth comfortably."
Some of the cars that stop at those public-access charging stations likely will belong to city and county governments. Many of those governments, plus the local power utilities, say they plan to add Leaf vehicles to their fleets, but won't commit officially until Nissan announces a price, Crowninshield said. "It's just a matter of what the cost is going to be to confirm how many vehicles they're going to want."
Officials at Tucson Electric Power see the project as a chance to learn first-hand how drivers use and charge their EVs, how those patterns affect loads on the electrical grid and how the utility can best support the growing EV market, said company spokesman Joe Salkowski.
"For example, we have rate programs already in place that would serve EV owners well -- time-of-use rates that reduce the cost of consumption in overnight, off-peak hours," he said. Will customers take advantage of those programs or will they find it more convenient to charge up during the day? Experience will tell.
Studying numerous EVs over an extended period also will reveal how well these vehicles perform and what it costs to use them, Crowninshield said. And the effort to deploy charging stations strategically will help make the electric car a more marketable proposition. "We want to make sure the infrastructure's ready, so that the vehicle, once it's launched, will be a success."