For his work as the assistant deputy commissioner for management information systems at New York City's Human Resources Administration (HRA), Meyer Michael Elbaz toggles between numerous case management systems to get a complete picture of a person's case history. He says it's a struggle to find basic information, like the medical, financial and housing services for which a client may be eligible. That kind of challenge persists across the HRA, a huge frontline agency that serves a client base of 3 million, many of whom are in crisis.
The agency's case management struggles are monumental. "We need to have a total picture of a client's situation in order to manage their cases properly," Elbaz explained. "But we've never had a consolidated view because the systems can't talk to one another."
Help is beginning to emerge in the form of a unique, integrated social services initiative called HHS-Connect. The project gives some city workers, like Elbaz, the capability to view data from some shared databases involving HRA and city agencies that handle services for the elderly, homeless and children. And that's just the beginning.
Eventually caseworkers -- whether they work for the city or for the many nonprofit agencies that are contracted to deliver critical services to its neediest residents -- will be able to see a client's history, family composition, and immediate and future needs. They will have the most comprehensive view of any health and human services agency in the country.
The vision for providing New York's poor with speedy and comprehensive service has existed for several years, but technology has been a major roadblock, according to Linda Gibbs, deputy mayor for Health and Human Services (HHS). "We realized we couldn't achieve the vision until we have the tools," she said. Those tools, in the form of software applications, middleware and databases, could revolutionize how government helps those in need. They could solve what Gibbs calls the "perennial problem" of getting siloed organizations to share data. Caseworkers could give families the resources to stay on their feet rather than just solve a crisis.
To reach those goals, Gibbs puts her faith in technology. She also believes in the man she chose to run HHS-Connect, CIO Kamal Bherwani.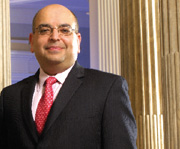 Beginning to Connect
New York City's quest for better tools like HHS-Connect started when Gibbs was commissioner of the city's Department of Homeless Services. Reform-minded Mayor Michael Bloomberg pushed her to think beyond traditional social services delivery. She and the commissioners for other health and human services agencies realized that the road to reform was through collaboration. "Sometimes the best way to serve a family is not always with the tools within your own agency, but also with the collaboration and tools within the other agencies of your jurisdiction," she said.
At the start of the mayor's second term in office, a real opportunity for change opened up when Bloomberg created the new position of deputy mayor for all of the city's health and human services. Gibbs accepted the job with the request that her responsibilities include the city's agencies for corrections, probation and juvenile justice. By including these judicial departments within her portfolio, Gibbs felt the city could offer valuable services for the first time to one of the most marginalized segments of the city's population.
Gibbs' expansive role gets to the heart of HHS-Connect: It's a way to get siloed organizations to operate effectively at both the planning level and on the front line. "How do you help the caseworker who is dealing with a homeless family connect with all the resources necessary to treat the family's situation holistically?" she asked. "It's not just about the crisis of homelessness that needs to be addressed.