connected to the rest of the infrastructure," Terrell said.
The county discovered that not all systems were candidates for virtualization because some crucial systems aren't well suited for the virtual frontier. Dickie said applications like the Kronos time-keeping program are too specialized and require connections or hardware that won't work in virtual environments.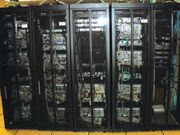 Also, the county's interactive voice-response (IVR) systems can't be virtualized because they need unique hardware to interface with phone systems. These IVR systems need access to the primary-rate interface, which is a digital network that sends voice and other data over digital or nondigital telephone lines.
Manuel Martull, Fujitsu's senior director of server marketing, said Fulton County's upgrade and consolidation allowed IT personnel to maximize its server usage.
"They noticed that some of these servers were significantly underutilized, so the utilization rates were in the 30 to 40 percent [range], and by virtualizing, some of these environments now can run the multiple applications within a single server and boost that utilization rate up to about 80 percent," he said.
Martull said the Primergy equipment will provide the county with dependable operability with very few failures over time.
"Once you purchase a Primergy system, it is expected to perform without failures for up to six years," Martull said, which would be a significant improvement compared to the server equipment Fulton had before the consolidation. "Some of the older systems that they had, I think they were 7-year-old systems."
Upside of Consolidation
The county installed four Fujitsu BX600 S2 chassis each containing 10 BX620 S2 blades. Fulton County began the server blade implementation in January 2006, implementing the first two blade chassis and installing VMware software. The county purchased two more chassis later that year. After purchasing the virtualization solutions, county IT personnel began testing how to use and configure the technology for different scenarios.
"For our testing environment, we used one blade from each blade chassis, and each blade chassis has 10 blades stored in them," said Katrina Terrell, a network manager for the county who is not related to her colleague Jay Terrell. She and her co-workers were able to test the scenarios differently and in different environments.
Using only one blade from each chassis lets DOIT take only a portion of the server environment for testing, while leaving the rest available for application support. This agility in the server infrastructure allows the DOIT more flexibility for day-to-day operations.
The county took a slow and steady road to implementing the blades and the virtualization, not to mention testing, configuration and training. The project was completed in fall 2008. Jay Terrell and his co-workers are unsure exactly how much the consolidation cost the county because of the implementation's long time frame.
The new setup improved the county's ability to manage its server environment in a few crucial ways. For one thing, the blade technology saves the county maintenance hours because it allows remote upkeep. And because the technology is standardized under the DOIT and not dispersed among multiple departments, it's easier to maintain. Virtualization also lets the county clone new servers from others much faster than before.
"When it comes to new server environments, we could have a server up within an hour or so or less," Katrina said. "It definitely enhances our environment to be able to reach the level of service to our departmental customers and maintain that level of service in a timely manner."