When Tulare County, Calif., criminal justice agencies decided to abandon their JLAN system in pursuit of customized individual systems, they lost the ability to integrate data electronically.
For a time, they returned to sharing information on paper, and then decided that middleware would be the best information-sharing bridge between the new systems. The first item they tackled was initiating a complaint -- from the DA's Office to the Superior Court.
"They made a list of 25 to 30 interfaces that were important to them," said IT Project Manager Alicia Beal (pictured), "and then they prioritized those." Beal said that it was not an easy thing to do, as in addition to technical issues there were challenges to getting everyone to work together. For example, said Beal, the DA's office might call eye color "brown," while the Court would call it "1234" or "auburn." "You have to go through and translate all of that -- kind of like language translation."
The county used Fiorano SOA middleware and a small in-house program to make the connections, enable the translation between systems and allow both agencies to push and pull documents between systems. Currently, the county is doing only one court's single-defendant cases through the system. However, in the next few weeks, Beal said that would expand to multiple courts and multi-defendant cases. After that, the system will expand to include amended court orders, amended motions and more.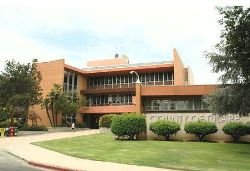 "We use the Fiorano software to move things from the D.A. system to the Court system and to the Public Defender system," said Beal. "We're not fully implemented yet, but we have all the parts, so without a lot of additional money we can continue building on what we have." Beal said that's very important given the current economic situation.
The individual systems have workflow built into them, said Beal, so now the goal is to build workflow bridges between the individual systems, integrate the workflow and work with all the vendors to populate the individual systems with the data.
Lessons Learned

Beal has a few suggestions gleaned from the process thus far:
Cooperation with the various members is key to the enterprise. Courts and the DA think differently, she said, and there has to be give and take among members. The D.A. and Public Defender are enemies when they appear in court. Courts are the hub of the system, other departments are spokes of the system. Courts provide the information. And all the departments have to give something to get something.
The first problem is identification of offenders -- how does anyone know which offender is which? Each department has its own method of identification and name and date of birth don't work because sometimes they are not unique. The county settled on court case numbers to handle the identification piece.
You have to get agreement on charges. Tulare County has 10,000 different charges, so they had to make a decision that everyone would use the same charges.
"We had to make sure that all of our systems could push and pull XML data," said Beal. "We try not to make the vendor do it a certain way, we tried to adapt more to them. Fiorano gave us ways to communicate with the vendors, so they have three or four to pick from. But we do want everyone to use XML.
The county tried to use the Department of Justice's global criminal justice model, but found it too complicated and unwieldy, so
the county took a portion of it.
It's really important to listen, said Beal. People are sometimes saying the same thing, between departments, but they often don't realize it.
At first, the county pulled the departments together for quarterly meetings, but as production increases, those meetings will become monthly. Beal said that extracting data from the system will be much simpler, and will free up staff from collecting statistical information for paper reports. That data will also be helpful in spotting problems and responding quickly. Probation, for example, took clerical people who were doing data entry, and put them to work doing statistical analysis. Data entry errors are greatly reduced, as the information is passed electronically rather than being re-keyed each time it goes from one department to another.
"With Fiorano SOA," said Beal, "we are one of only a few counties in the entire state of California to integrate our electronic data system and IT infrastructure. Fiorano SOA has kept us on the cutting-edge of enterprise technology, positioning our justice system as one of the more technologically progressive and forward-thinking. These changes have not only made our lives easier and our jobs more efficient; they have made Tulare County's residents' lives easier as well."