In the early 2000s, Wisconsin had a bit of a problem. The state offered plenty of public assistance programs, but they weren't being taken advantage of by many citizens who needed them. Why? Maybe it was difficult to take time off work or use a lunch break to apply for public benefits at an office open only during bankers' hours. And discussing personal information with eligibility workers made some citizens uncomfortable.
In response, the state created ACCESS, a Web portal that allows Wisconsinites to apply for health and social service programs, check eligibility, view the status of current benefits or change personal benefits information -- all from a computer.
"It's empowered our members and potential members to take control of their own cases and really have a way of interacting with the program that minimizes any stigma, embarrassment [and] inconvenience," said Jim Jones, deputy state Medicaid director for Wisconsin. The state receives about one-third of its applications online now.
The Wisconsin Department of Health Services built ACCESS for one purpose: to give citizens a faster alternative to receive services.
"The goal of ACCESS from the very beginning was to increase access to the programs," Jones said. "There were people who didn't want to come in to the local agency, who didn't even feel comfortable calling, who we felt would be more comfortable on the Internet."

Online accessibility also lets people receive services when the offices are closed. "If you worked 8 to 5, you'd either have to take a lunch break some other time or take time off to get food stamps applied for your case, or health care for your case and for your family. We wanted to make it easier for people to use," Jones said. "And we wanted to make it easier for people to apply for our programs and get in them."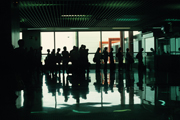 Applicants can also use ACCESS in public offices, where eligibility workers guide them through the process or type in information for them. Citizens can check eligibility or apply for programs, such as Medicaid; BadgerCare Plus, a program that offers health insurance to children age 18 and younger; FoodShare Wisconsin, designed to help low-income families buy food; and SeniorCare, which helps citizens age 65 and older get prescription drugs.
"Once the application is completed and you submit it, it comes into our automated eligibility system into an inbox; and then, when the [eligibility] worker chooses it, it takes all the data the client has provided and puts it into our automated eligibility system," Jones said. "It means the worker doesn't have to enter that information from a mail-in application form or in a face-to-face interview."
Not only does this save time for public employees because there's less data entry, it could also make personal interaction more meaningful, Jones said. When completing a traditional, paper-based application, an eligibility worker could be so focused on jotting down information, that discussing a client's personal life became a cold, mechanical task. But if the client entered the information into the computer beforehand, the worker would only call the client if it was necessary to clarify specific information. The discussion could be more informal.
"It's a phone call that says, 'Hey, you said that you have a new job over at Joe's Plumbing, and I wondered how many hours you're working there. Oh, you're working that many hours? Well, that's great. Can you send me your next pay stub?' It becomes that kind of conversation," Jones said, "rather than, 'I have to code this [information in the] computer the right way,' and makes it much more of a person-to-person kind of contact."
The ACCESS Story
In 2002, Wisconsin began assessing its enrollment process for public health programs because the state wanted to improve citizens' access to them. Wisconsin was inspired by Pennsylvania's COMPASS system, a Web-based application for benefits enrollment.
Wisconsin applied for a grant from the Food and Nutrition Service, an agency under the U.S. Department of Agriculture (USDA), with the intent to build a similar Web-based tool for people to apply for benefits, check existing benefits status and discern eligibility. In 2003, the Food and Nutrition Service granted Wisconsin $1.7 million along with $1.3 million from the state Department of Health Services for enhancements to internal eligibility systems, the state had about $3 million to get started.
Wisconsin hired consultancy Deloitte, and contractors traveled to communities to talk with focus groups of citizens, county employees and others. Jones said the listening tour took about four months. With Deloitte's findings, Wisconsin decided the solution should be short, confidential, easy to use and at a fourth-grade reading level. The first ACCESS application, the "Am I Eligible?" tool -- where people input information to be screened for program eligibility -- went live in August 2004. The three other tools followed in 2005 and 2006: "Check My Benefits" in September 2005, "Apply for Benefits" in June 2006 and "Report My Changes" in September 2006. Jones estimated that it took about $6 million to get ACCESS where it is now.
ACCESS Code in Demand
The application has proved to be popular, and not just with Wisconsin's citizens and staff. Jones said other public-sector entities have contacted the state about adopting the ACCESS solution. Since the Department of Health Services is a public entity that used public funds to develop ACCESS, the state is required to make it available. So far, New Mexico, Vermont, Oregon, Nevada and San Francisco have acquired the source code. Jones said other states have gone live with a modified version of ACCESS.
After filing a memorandum of understanding, Wisconsin gave New York the ACCESS code on Feb. 4, 2008. Then the state forged ahead on design and development and contracted with Deloitte for assistance. The first phase of myBenefits was the eligibility prescreening tool released in May 2008. The next phase, released in late August 2008, incorporated screening for home energy assistance and the "Application Status" tool.
Eligibility workers and community partners can use myBenefits to input citizens' data electronically and submit the data to personnel at local social services departments, who determine program eligibility.
"The vision of myBenefits is really to provide a single online site and portal through which low-income working families, low-income individuals in the state and community partners can connect with the benefits, services and the work supports that they need. So it's essentially an e-government hub for human services," said David Hansell, commissioner of the Office of Temporary and Disability Assistance (OTDA).
MyBenefits was conceived as part of an OTDA initiative to help New York align with then-Gov. Eliot Spitzer's proposal to expand low-income residents' access to the Food Stamp Program. On June 5, 2007 -- National Hunger Awareness Day -- Spitzer announced the Working Families Food Stamp Initiative, a drive to simplify and streamline the state's application process for food stamps. However, portions of the initiative had to be approved by the USDA before it could get formally under way. That summer, the OTDA began working on the project.
"Within a month, we were busy trying to figure out what kind of solution [we could] bring in or look at in order to support our Working Families Food Stamp Initiative," said Daniel Chan, CIO of OTDA.
The USDA approved the initiative, and on Feb. 4, 2008, Spitzer announced its launch. By then, OTDA had already acquired the ACCESS functionality. Several weeks later, the state had its Web application up and running, which was a crucial step toward increased citizen participation.
Just in Time
It's good that New York has myBenefits, Hansell said, because the area has been hit hard by tough economic times. In October 2008, Gov. David Paterson, said more than 160,000 New York residents could lose their jobs soon.
"We're anticipating a tremendous mean increase in the need for many of the programs that we're talking about because people are going to be losing their jobs," Hansell said.
On top of job losses fueled by collapsing Wall Street investment banks, another unemployment wave predicted by Paterson could create an economic quagmire and consequently more people will need public assistance. Chan might already be seeing the signs. During October, myBenefits' Web traffic increased threefold, he said.
"The job losses will be at all income levels. It will be from investment bankers down to support staff, but there also will be the ripple effects on the New York City economy," Hansell said. "As those people lose their jobs and have less money to spend, it's going to affect restaurants -- it's going to affect all sorts of support work, so we expect that there'll be job losses at all levels."
Hansell said OTDA has ambitious plans for myBenefits that will take time to implement. He would like to add more programs that low-income residents would be eligible for, like health insurance and child care. He also wants myBenefits to give citizens more power to manage and administer their benefits online.
OTDA is working with open source developer Red Hat to implement a rules engine -- software that classifies and defines crucial system code -- which will let New York expand myBenefits to more easily encapsulate additional programs and functions. These changes will move New York even closer to the functionality of Wisconsin's ACCESS system.
But ACCESS' features will also continue to evolve, Jones said.
"I'm satisfied with what we have because I see where it's going. It's really going to this interface that deals with all members' needs," he said. "I think, eventually, we're going to get to this particular point where we have to go back and refocus on the technology, but it's just been a few years now, and we've been good at keeping it up-to-date."