Georgetown County, S.C., isn't known as a bustling hub of innovation. But as the county's library system adopts new technology, residents can connect to a world beyond their rural community.
The Amazon Kindle, the popular e-book reader, is the latest tool made available at Georgetown County Library, thanks to a national Library Services and Technology Act grant. With the $25,000 grant, matched by the libraries, the county acquired 25 Kindles for onsite use and about $2,500 worth of e-books.
"A library's mission is to preserve information and make that information available to the public," said Dwight McInvaill, director of the Georgetown County Library. "We started out with stone tablets and now we have Kindles."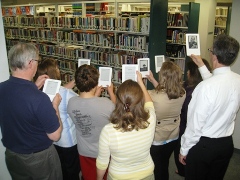 Across the country in the past decade, the marriage between technology and libraries has matured with the rise of interactive gaming and hands-on digital tools. Providing these types of virtual resources to the public has been one component of making the case that Americans still need libraries in the digital age.
View Full Story