centers.
The systems typically are purchased not by individual organizations, but by regions; in this case, entities such as the Texas State Department of Family and Protective Services and the Louisiana Hospital Association. These groups in turn put the system into play in hospitals, dialysis centers, emergency medical services agencies and providers within a five-state area.
As Ike neared, land users began gearing up the EMSystems products to issue evacuation-procedure reminders and disseminate their evacuation status. "So ambulances would know where they could take patients and where they could not," Nunemaker explained.
As time went on, those outgoing communications gave way to incoming queries. "A hospital would poll all the other hospitals in the receiving area to see who could take whom, and then can use the system to preassign people to rooms before they showed up," he said. "The last thing a hospital wants is patients coming in the door that they cannot accept."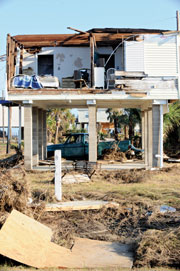 The system shared data among a breadth of institutions, including areas outside the potential hurricane zone that were queried about their readiness. Within the potential areas of Ike's landfall, hospitals and also specialty facilities - psychiatric, rehab and dialysis - all weighed in with their needs and availabilities.
The tracking of specialty facilities came as a direct result of a previous catastrophe - Hurricane Katrina. Since dialysis facilities are usually privately managed, it proved difficult to track availability, and capacity was easily overwhelmed.
When Ike struck, "we were already tracking every dialysis center in Texas," Nunemaker said. "There will come a day when we are tracking all the people in nursing homes and other types of facilities who have special needs, and not just hospitals. That is just the natural evolution."
In real terms, the ability to track people and inventory had a transformative effect on those displaced by Hurricane Ike. Nunemaker recalled the case of a woman separated from her oxygen tank. Through the patient-tracking system - which also follows personal belongings - emergency personnel found the tank within minutes and got it to her within hours.
"When you are efficiently tracking and scanning and using technology, you are able to find these things in real time," he said.
Keeping People Connected
Jeff Braun knew the communication system was working when the news reporters started calling.
As emergency management coordinator of Fort Bend County, Texas, Braun found himself trying to deliver timely, storm-related information in the midst of Ike to the county's half a million residents.
To make it happen, he turned to the Public Information and Emergency Response (PIER) System, a Web-based virtual communications center meant to foster emergency communications regardless of circumstance. The Coast Guard, and the Los Angeles and Houston port authorities use the system.
PIER allows communications personnel to work through a common Web site to collaborate, update messages and upload photos and videos.
"There were a couple reporters who didn't have power. They didn't know where to go for information, and they had really tight deadlines," Braun said. "When the power came back on, the first thing they did was to call us. We were sending out information at a level they had not seen before, in a way that was genuinely helpful to them."
Braun's success came within a larger regional effort to make use of PIER. A few local users included:
· The University of Houston;
· Dent County, Mo.;
· Port of Houston;
· Marathon Oil Corp.; and
· Metropolitan Transit Authority of Harris County.
The Coast Guard also numbers itself among the dozen local PIER users, with a steady flow of