Having interoperable communications during an emergency can be priceless for first responders and the public, but rolling out the network can take years. The Georgia Interoperability Network allows statewide communication for first responders without requiring counties to replace existing radio equipment. By retaining the counties' current radio equipment, the state has achieved widespread buy-in among first responders in Georgia's 159 counties.
The Georgia State Patrol owns the network, which was funded by a multimillion dollar grant from the U.S. Department of Homeland Security's Law Enforcement Terrorism Prevention Program. The state patrol, Georgia Emergency Management Agency (GEMA) and the Georgia Tech Research Institute (GTRI) collaborated on the network. Production on the network began two years ago and is expected to be completed December 2009.
Click, Drag, Connect
The network will save millions of dollars by using a gateway system that lets counties use their current radio frequency infrastructure equipment. Every 911 dispatch center in the state is equipped with a public safety answering point (PSAP); and smaller counties that share a 911 dispatch center will require only one PSAP. The PSAP lets dispatchers visually connect calls on a computer screen. An icon represents each person calling, and dispatchers stack icons on top of one another to connect the callers.
"It connects through technologies that are installed at the PSAP; it allows for interoperable communications across all of the radio spectrums that we use in Georgia," said Ralph Reichert, the project's GEMA sponsor and the director of GEMA's Terrorism Emergency Response and Preparedness Division. "It does not increase the radio footprint of a jurisdiction, but it does allow other jurisdictions to communicate as they come into a specific area."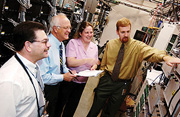 According to Dan Brown, the Georgia State Patrol's network project director, the state holds workshops with each county to collect buy-in and formulate a plan for day-to-day interoperability. The Georgia State Patrol provides each county with the necessary equipment: a radio gateway unit; workstation gateway unit; router; firewall; multiprotocol label switching circuit; and a common platform in the form of VHF radio, which is a Motorola CDM1550.
GTRI staff meet with each county to customize the network for its individual needs and provide technical assistance and training.
The network costs an average of $130,000 to $135,000 per county, according to Brown. "It is completely federally funded with the exception of the network recurring costs, which is a state endeavor."
Counties can make additional investments if they desire. Several counties have added more radio gateway units to get additional radio frequencies, Brown said. The provided radio gateway unit has eight ports; the first port is used by the statewide radio VHF, which leaves seven ports available.
"I think the thing that works for Georgia about this technology is that locals don't have to replace their systems because that would be very cost prohibitive," said Leigh McCook, a GTRI principal research associate. "It doesn't make those systems obsolete, but it makes the systems talk and work with each other with their existing technologies."
Combining Efforts
The state patrol hopes to increase buy-in by covering future maintenance. "If you leave it up to individual collaboration, you don't get the level of participation you would like to occur," said Brown. By providing and installing the network equipment for the counties, the state doesn't have to worry that some counties won't be able to allot money for it. "Maintenance and all the issues are taken care of, and the state also pays for network recurring costs, and gives us a common platform that all can use without people determining that it's not as big a necessity as we believe interoperability in Georgia is."