Internally Created
Images of the future of police technology were once only found in movies. James Bond's gadgets left audiences awestruck - and wondering when the tools might be used by their state and local law enforcement offices. The time, it turns out, is now.
In the Southwest, one state is testing a device that shoots a small GPS-equipped dart that attaches itself to a suspect's vehicle during a high-speed pursuit. On the West Coast, a police department is using ear-mounted video cameras that capture an officers' view of traffic stops and other incidents. Police departments on the East Coast are using cameras on patrol cars to scan and track the license plates of each vehicle they pass, which lets them recoup overdue parking violations fines. It seems real life is catching up with science fiction.
Law enforcement technology may be evolving, but it hasn't changed the core responsibilities of police officers' jobs. Lt. Raymond Foster, author of the book Police Technology, said police officers still must talk to people and gather information. "Evidence is nothing but information," he said.
However, vast improvements have been made in detecting information, correlating it with databases, and exchanging data with others. "Technology has enabled us to find new information and new ways of organizing information to help us solve and prevent crimes," said Foster, a retired Los Angeles Police Department officer.
These innovations will keep citizens safer, and they offer an intriguing look at what the future holds for law enforcement technology.
Redefining Police Pursuits
Policies for high-speed police pursuits vary among law enforcement departments, but all agree that car chases are dangerous. To help reduce the number of high-speed pursuits and the deadly collisions associated with them, last year the Arizona Department of Public Safety (DPS) began piloting the StarChase Pursuit Management System, which uses a patrol car's mounted launcher to shoot a GPS-equipped dart at a fleeing vehicle.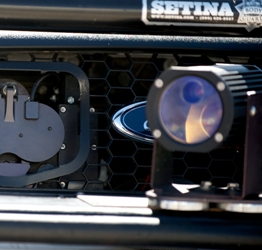 Photo: Police officers use the StarChase Pursuit Management System to launch a GPS device from a patrol car onto the suspect's vehicle during a high-speed chase. Photo courtesy of the Arizona Department of Public Safety
"It's a device that's mounted on the front of the patrol car, and there is a sighting device, targeting device and a deployment device inside the patrol car so the officer can adjust the aim depending on the type of vehicle," said Lt. Stephen Harrison, the department's public information officer.
Officers use a laser pointer to aim and then shoot the dart, which attaches itself to the suspect's vehicle. The dart includes a battery and wireless transmitter, allowing officers to track the vehicle's movement. "Dispatch is hooked into the device; they can actually monitor it on a computer screen with a map," Harrison said. "They can track where the vehicle is going, how fast it's going, if it's taking off-ramps or driving city streets."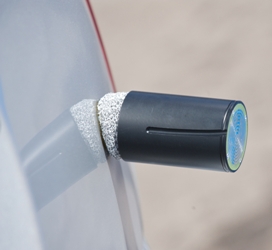 Photo courtesy of the Arizona Department of Public Safety
Remote monitoring lets officers follow suspects from a safer distance so that suspects don't realize they're still being tracked. Dispatchers deploy officers around the suspect's location so that once the vehicle stops, officers can move in and detain him or her.
Harrison said the device has been used on stolen cars and human smuggling cases. "Particularly in human smuggling, we have an issue where the smugglers have no regard for human life, so they will speed away and quite often have a horrific collision, injuring and killing people - and then the driver flees," he said.