From viral videos to shark diving, the battle for Google broadband, in many ways, has played like a reality show competition: For weeks, local governments have tried to outwit and outplay each other to win ultra high-speed Internet connections as part of the popular "Google Fiber" project.
More than 1,100 cities and towns, and 194,000 individuals have responded to the Web search giant's offer to use at least one city to test a broadband network that's 100 times faster than what's typically available in America. The latest stats come from Google's blog on Friday, March 26, the day of the submission deadline in a post by James Kelly, product manager.
"So what's next? Over the coming months, we'll be reviewing the responses to determine where to build," Kelly wrote. "As we narrow down our choices, we'll be conducting site visits, meeting with local officials and consulting with third-party organizations. Based on a rigorous review of the data, we will announce our target community or communities by the end of the year."
As the FCC pushes its national broadband plan to prioritize high-speed Internet as a "foundation for economic growth, job creation, global competitiveness and a better way of life," Google hopes to serve 50,000 to 500,000 people through its experimental project. But even though Kelly acknowledged that the response from communities and individuals has been "tremendous and creative," one question stands: Will the slew of government shenanigans sway Google's final decision in any way?
In other words, will the mayor of Sarasota, Fla. get any bonus points for swimming with sharks? Did Topeka, Kan. earn a future swing vote for changing its name to Google, Kan. for the month of March? Does Duluth, Minn. have a better chance of winning the bid because its mayor leaped into the frigid waters of Lake Superior?
What about Bonner Gaylord, a council member in Raleigh? Gaylord recently found out that he and his wife will be having twins, and, in a new YouTube video, he says he will name them in Google's honor if the company chooses Raleigh as its test bed.
"If Google Fiber commits to Raleigh, I'll commit to you that I will name those children Sergey and Larry ... if it's two boys," said Gaylord, as an homage to Google's co-founders Larry Page and Sergey Brin. "Have I asked my wife, you may ask me? No, I have not. But I'm willing to make that commitment."
In the company's blog, Google thanked the mayors for their excitement and enthusiasm. Even though the Mountain View, Calif.-based company won't be able to bring faster broadband to every interested community, Kelly wrote, the project illustrates that people are "hungry for better and faster Internet access" and the company hopes the experiment will lead to a future of faster fiber-optic networks across the country.
"Wherever we decide to build, we hope to learn lessons that will help improve Internet access everywhere," Kelly wrote. "After all, you shouldn't have to jump into frozen lakes and shark tanks to get ultra high-speed broadband."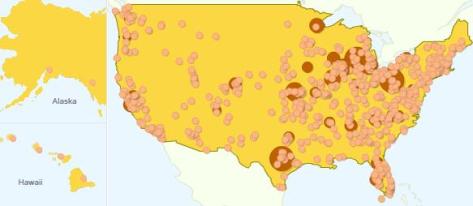 *The map above displays where the responses were concentrated on deadline day. Each small dot represents a government response, and each large dot represents locations where more than 1,000 residents submitted a nomination.