Photo: Bill Greeves, communications and IT director of Roanoke County, Va. / David Kidd
---
In the wake of this recession, most state and local CIOs have had to trim their budgets -- and 55 percent of local government CIOs have projected IT budget decreases over the next two years, according to a 2009 survey by the Public Technology Institute and Input.
To cut costs further, some state and local governments have resorted to consolidating IT with another department, such as finance. The good news is that in some of these cases, CIOs are being promoted to lead the newly merged departments.
If putting the CIO in charge of operations outside IT is still a novel concept in the public sector, it's less so in the private sector.
A 2008 Gartner Executive Programs survey of 1,500 CIOs found that more than half held responsibilities outside of traditional IT. Martha Heller, managing director for ZRG Partners in Boston, said that about 25 percent of private-sector IT leaders have added titles, such as "director of procurement," to their CIO responsibilities. And many more CIOs are given additional responsibilities in areas like human resources -- without officially adding them to their title.

One reason to consolidate agencies is to save money by reducing the number of managers, Heller said. "But another reason is that you are looking for efficiencies and innovation. You want more business intelligence about how to run your operations better, and the CIO is well positioned to provide that."
As more public-sector CIOs have partnered with departments on innovative e-government and automation projects, it's not surprising that some have earned reputations as problem-solvers. "We've seen a trend of CIOs becoming more and more business-minded, and they should be prepared to take on new leadership roles outside the data center," said Bill Bott, a Change and Innovation Agency consulting partner and former Missouri deputy CIO. "For those CIOs who have been engaged with the departments at the business level for years and have embraced things like performance measurement, strategic planning and project management, those are universal skills that would translate to any agency."

To give a better understanding of the challenges CIOs face, few CIOs discussed with Public CIO the impact of assuming additional responsibility and "shoehorning" titles like "assistant city manager next to the CIO" on their business cards. The consensus thus far is positive and that this practice could become more commonplace.
An Experiment in Michigan
Perhaps no state CIO in the country has more on his plate than Michigan's Ken Theis. Gov. Jennifer Granholm recently chose him to lead the newly formed Department of Technology, Management and Budget, a consolidation of two separate departments: Information Technology, and Management and Budget. All of a sudden, Theis, who previously was director of the Michigan Department of Information Technology (DIT), is responsible for budgeting, human resources and administrative support for state agencies, including travel, facilities and purchasing.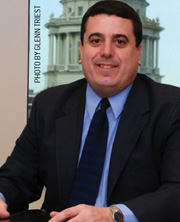 Photo: Ken Theis, Michigan CIO and director of the Department of Technology, Management and Budget/Photo by Glenn Triest


After much debate, Granholm insisted that technology be first in the department's name. "I think it is important too," Theis said, "because it stresses that we are going to streamline administrative functions."
Michigan has dealt with massive budget cuts for many years, and this consolidation is part of a larger effort to reduce the number of state agencies from 18 to eight. Theis, who spent 10 years as an IT executive at General Motors before joining state government, enthusiastically described what he believes are opportunities to use technology to automate manual, back-office tasks.
"You could see this as two organizations jammed together to find cost-savings, but that's the easy part," he said. "The strategic things are bigger." Theis wants to attack the 10,000 paper-based forms that are passed around manually in the state government. "Why aren't those electronic in 2010?" he asked. "We have warehouses full of paper that need to be digitized. We have purchasing not done in uniform ways. We have 38 data centers. We could get all government entities under one public cloud."

The DIT has a solid reputation for fundamentally changing processes, he added, and there are still so many that are manually based that the DIT can bring some automation to.
Theis said Granholm has developed trust in DIT's ability to deliver on projects. When a problem arises, the governor often turns to Theis and the affected agency's director. "When she wanted to improve the way we respond to unemployment claims by citizens, she called me and the unemployment director at the same time," he recalled. "We came up with ways that the information can be Web-based so citizens don't have to wait to speak to someone in a call center to find status on claims."
Theis has earned enormous respect from all cabinet-level directors and the governor's office, said California CIO Teri Takai, who was Theis' boss when she was Michigan's CIO. "He is seen in Michigan as a change agent," she said. (Editor's note: As Public CIO went to press, President Barack Obama nominated Takai to become assistant secretary for networks and information integration for the U.S. Department of Defense.) 
And about 2,500 miles away, Takai is leading California through the early stages of an IT consolidation that's bigger, but maybe not quite as far-reaching as the one she and Theis led in Michigan a few years ago. Although California is moving several departments and decision-making power into the Office of the State CIO, Takai said it's too early to think about a Michigan-style merger with another agency, such as the state's Department of General Services. "Our challenges are to establish the Office of the CIO," she said, "and we are just two years into that journey."

Besides his personal learning curve, one of Theis' greatest challenges is developing a single department culture as 1,700 DIT workers join 900 from the Department of Management and Budget. DIT has a customer relationship model with clients and a metrics system to meet service levels. "The trick is to bring some of that culture to an administrative organization that is more functionally based," he said.

Theis believes promotions like his will become common as more government leaders realize that CIOs have the ability to transform government business processes. "A lot of good CIOs in the private sector are now vice presidents of shared services because it was identified that they can move the organization forward," he said. "I am convinced that that will happen now in the public sector."
Moving into the Emergency Operations Center
In the last year, Bill Greeves has gone from being the IT director for Roanoke County, Va., to the head of a new Communications and Information Technology Department that has 80 employees and merges public safety and IT. He has taken on parts of three different positions, including CIO.
It started in early 2009 when the county decided to move public safety, which operates the Roanoke County Emergency Communications Center (ECC), from the police department. Just as the search began for a director of that new agency, CIO Elaine Carver announced her plan to retire.

With Carver leaving and the budget picture not improving, County Administrator Clay Goodman III decided to consolidate IT and the ECC under one position. "And he was looking right at me as he said it," the 36-year-old Greeves remembered with a laugh.

Greeves took charge of the merged departments in October 2009. "I was stressed out about it at first," he admitted. "In IT, you are in charge of crucial systems, but not life and death. But that is exactly what public safety is, so I was entering a whole new realm. But it has gone relatively smoothly so far."
There was some apprehension in the ECC about whether the center would get enough attention, or be absorbed into a larger group and be the redheaded stepchild, Greeves said. One reason that hasn't happened, he said, is that he was allowed to hire two assistant directors who act as lieutenants for each area. "I have daily interactions with them and get a balanced view," he said. "If anything, I have paid more attention to public safety because there is so much I need to learn about it and I wanted to earn their trust."
Occasionally someone asks Greeves why the county would put an IT person in charge of 911. He says it's actually not an odd pairing. "There is a misconception that people in the ECC only use phones and radio dispatch," he said. "Actually they are technologists using computer screens, mapping and wireless headsets."
The IT applications group already had a good relationship with the ECC staffers through supporting their computer-aided dispatch, so it wasn't a painful transition. Greeves is working to apply some of the approaches used in the IT department's project management office to fix business problems in the ECC. "We want them to have a consistent approach to fixing problems," he said.
Greeves said he enjoys working in the public sector and likes being exposed to all aspects of public safety, which is the No. 1 priority of local governments. "I don't see myself staying a CIO my whole career, so I see taking on this added responsibility as a positive thing."
Broadening the Portfolio
Just as David Molchany was promoted to CIO of Fairfax County, Va., in 1998, the position was changed dramatically. He became a deputy county executive and added to his portfolio all of the county departments relating to information management, including libraries, regulatory compliance and cable communications. The change essentially separated the CIO position from the IT department, and Molchany's lieutenant took the reins in IT. In 2004, he dropped the CIO from his title and became the deputy county executive. Chief Technology Officer Wanda Gibson now runs the IT department and reports to Molchany.

Assuming more responsibility was daunting at first, he said. "I basically had to learn everything as I took on a greater role," he said, "but that followed the path of my career in IT." Molchany was a software person. As he took on greater responsibilities, he had to learn about other things, but also to trust the judgments of the subject matter experts. "So I had to rely on the networking, data center and telecom people to be the experts there. I had to rely on my project management skills."
Those project management and analysis skills gained from working in IT come into play when one is responsible for more people and more areas, he said. "You have shown an ability to deliver, and those are key skills that you learn in IT, so I think more CIOs will be given more responsibility going forward because those skills are just an aspect of what they already do."
Molchany added that he would never go back to being a CIO. "IT is broad, but it is narrower than what I do now with multiple departments reporting to me. I would be more interested in a county executive position."

Rey Arellano, deputy city manager and CIO of Tacoma, Wash., remembered the trepidation in some departments when he was first appointed assistant city manager and CIO in 2006.

"There were some people asking why they were reporting to the CIO," recalled Arellano, who originally oversaw the IT, finance and human resources departments. "I tried to stress that I was taking a broader perspective and not bringing the CIO hat to every discussion," he said. "I think that worked for most people. Others moved on and I was able to create a new team." He has since been promoted to deputy city manager with four more business departments reporting to him. "Now my role is similar to a chief operating officer," he said. "Because of my continuing interest in the governance and strategic deployment of technology, I retained the title of CIO with support from the city manager. In addition, I hired an IT director to take over running the department."
As Arellano has delegated more in IT, he has found it challenging to stay on top of the latest technology developments, but he has put his focus on governance issues and developing better relations with business units.
"I try to put the focus on working in a collaborative way," he said. "I never wanted to be seen as the tech guy imposing his solutions. I do think that because I have more responsibility, people tend to pay more attention to the questions I ask than they would if I were just the CIO."
Arellano believes the promotion of IT leaders demonstrates recognition that CIOs have a certain skill set for delivering on services. "To do so, we have to have knowledge of the operations in different departments," he said. "So as much as government leaders value that, it creates an opportunity."