CIO Teri Takai is ready to give California a major IT tune-up, one that's even bigger than the consolidation she performed as Michigan's CIO.
Takai told Government Technology on Tuesday that California's $40 billion budget deficit has driven home the importance of a statewide IT consolidation.
"I think it was obviously something [Gov. Arnold Schwarzenegger] wanted, to make sure that we get efficiencies in government," Takai said, "particularly as we're talking about the revenue crisis that we face, and so this was a part of his overall plan."
On Jan. 16, Schwarzenegger announced the Governor's Reorganization Plan, an 18-point list that would centralize statewide IT operations under an expanded Office of the State Chief Information Officer. Takai and her office would absorb and oversee the Department of Technology Services -- currently managing two of California's largest data centers -- as well as the Office of Information Security and Privacy Protection, and the Department of General Services' telecommunications division, which manages 911 call centers and public safety radio. Under the plan, Chief Information Security Officer Mark Weatherford and Technology Services Director P.K. Agarwal would report to Takai. On Jan. 15, the state released its five-year IT strategic plan, which includes the consolidation plan.

The organizational consolidation, if approved, is projected to save California $1.5 billion, including cost avoidance, over five years. But that's not nearly enough to solve the state's budget woes.
California lawmakers remain at odds about how to solve the budget impasse. Last week, Controller John Chiang said the budget crunch could force the state to delay sending Californians their tax refunds. Schwarzenegger has ordered most state workers to take unpaid furloughs two Fridays each month until summer 2010 in order to dent the state's deficit.
Despite the sobering economic climate, Takai said the IT consolidation won't eliminate positions. "Clearly, as with anyone in IT, those jobs are going to evolve over time, as they've evolved already," Takai said. "So there are going to be different technologies, and you know, potentially, we're going to want to do things like increase project-management skills and increase things like project management and analytics. But there's no intention, as a result of the strategic plan, to change the number of IT employees in the state."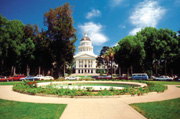 Takai said in addition to the IT reorganization, California will consolidate its e-mail systems and data centers -- the state currently has more than 400,000 square feet of floor space, including 400 data center locations and server rooms.
Takai, who was Michigan's CIO from 2003 to 2007, made her public-sector managerial reputation, in large part, on a consolidation of Michigan's IT services that reduced the state's 25 data centers to only three and also pared down the state's disparate e-mail systems.
But the scale of California's consolidation promises to be bigger. Much bigger.
A May 2008 survey of California's IT structure reveals a large organization that befits California's status as the most populous state. The state has:
o 8,000 to 10,000 IT employees, including 130 CIOs;
o $3 billion in annual IT expenditures;
o more than 100 different e-mail systems and supports 180,000 mailboxes; and
o 9,500 servers that it owns and operates.
Takai said she realizes what worked for Michigan won't necessarily translate to the West Coast.
"We are going to operate here in California -- just because of our size and diversity -- in much more of a 'federated' model rather than a consolidated model. For instance, we are not consolidating IT budgets. Those budgets will still remain in the control of the [individual] business areas. We're not talking about doing any consolidation of personnel, but rather that people will work on common technologies."
One technology priority for Takai is a standard for the state's networks. "We'd like to have a unified statewide network, which doesn't necessarily mean one network, but it means that we're all going to do our networks in the same way," Takai explained. Common standards will help California move toward server virtualization (which saves on hardware investment and energy consumption) and also aid IT workers who are developing applications, she said.
The federated IT model, in which agencies retain autonomy over program-specific technology, will also extend to governance and the chain of command. "We're asking that all of the information technology staff would report into an information technology organization -- in some cases today, some of those staff reside in some of the business areas [of individual state agencies]," Takai said. All the IT staff in an agency would report to a CIO, she said, and employees will receive business direction, in terms of the way technology is to be used in their department, from the agencies and departments that they work for today.
"That reporting relationship won't change," Takai said. "Nobody's going to move or change seats. The difference is the IT policy direction will come from this Office [of the State Chief Information Officer]."
Under Schwarzenegger's plan, Takai's position would also be in charge of statewide IT procurement. Over the course of the next five years, Takai said, California will be doing a major refresh on most of the components of its infrastructure, including PCs, servers and software licenses. By having a central point person in control -- the state CIO -- it should lead to more efficient spending because there won't be hundreds of different ways of doing things in state agencies, she said.
If the consolidation is implemented, it would appear to cap a rapid accumulation of power and duties that Schwarzenegger has given to the state CIO position. In 2006, he signed legislation creating the Office of the State Chief Information Officer. In 2007, the governor signed more legislation that made the office a Cabinet-level agency with statutory authority over IT policy.
But Takai might not be around to see the entire consolidation to fruition. She's an appointee of Schwarzenegger, who will be term-limited in 2010.
"In the next two years, our plan will be to have this reorganization in place, because it will be at that time in statute, which means it will be there for the next administration," she said.
But first, the Governor's Reorganization Plan must get a recommendation from the Little Hoover Commission, an independent oversight agency that gives guidance to the state Legislature. The commission has scheduled hearing dates for the IT consolidation plan in February and March. The Legislature would also have to approve the plan.