Photo: Federal CIO Vivek Kundra. Photo by John Harrington.
A directive from the U.S. Office of Management and Budget (OMB) released Tuesday orders federal government agencies to publish "high-value" data sets, launch Web sites for open government, and write agencywide plans that will hardwire transparency into the public process.
Federal CIO Vivek Kundra and Federal Chief Technology Officer Aneesh Chopra unveiled the long-awaited Open Government Directive during a live video chat on Whitehouse.gov. Chopra said the OMB "highly encourages" state and local governments to follow suit with similar transparency directives.
"One of the things that we were so proud of when Vivek launched Data.gov was how many state and local governments replicated the model," Chopra said. "We see this as a key pillar of public-sector work -- not just within the Obama administration. ... We think, we hope, this will be a helpful tool in support of state and local entrepreneurial activities to promote open government."
A 22-page progress report on open government also was released Tuesday by the Obama administration.
Directive Sets Aggressive Timeline
The Open Government Directive instructs federal agencies "to implement the principles of transparency, participation and collaboration" outlined in a memorandum the president signed in January, which spawned an initiative spearheaded by the White House. Federal agencies are directed to:
make public at least three "high-value" data sets in an open format within 45 days, and post them to Data.gov;
name a senior-level official who will oversee the implementation of the transparency directive and be in charge of assuring data quality;
launch an open government Web page within 60 days; and
within 120 days, publish an agencywide open government plan that will describe and enforce transparency initiatives and will improve public participation and accountability.
Chopra said the federal government should take advantage of today's technologies to collaborate with the public on everything from health-care reform to how the federal government does procurements.
"When you look to the output of this Open Government Directive, what this really says is that when we make decisions in Washington, we want to make sure we're held accountable for the results that we are expected to deliver," he said. "We want to make sure every American has a chance to weigh in on how those policies should be implemented, and we want to take full advantage of the capabilities of our modern world to collaborate in new ways in the execution of those policies."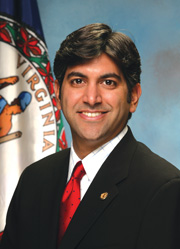 Photo: Federal CTO Aneesh Chopra. Photo courtesy of Virginia Secretary of Technology Office
Budget Office Sets Course for Openness
Over the next three months, as part of the directive the OMB will launch a dashboard that will track the progress of agencies' transparency initiatives; will review existing OMB policies to ensure they're in line with the administration's commitment to transparency; and will issue guidance on how agencies can implement "challenges, prizes and other incentive-backed strategies to find innovative or cost-effective solutions to improving open government."
The OMB's interest in prizes appears to be modeled from Washington, D.C.'s Apps for Democracy, a contest Kundra helped start when he was the district's CTO. Apps for Democracy challenges citizens to create open source applications that utilize data that the district makes public.
Since Kundra and Chopra joined the Obama administration, state and local governments have emulated some of their new initiatives for the federal government. Kundra said that when he launched Data.gov, New York City, San Francisco and Massachusetts launched similar Web sites that also house publicly available data sets from the government.
"Same thing with the IT dashboard: We're seeing that other cities and states want to leverage the same platform, and we're working with them to be engaged in getting some of the software and technologies so that this becomes a national movement," Kundra said.
OMB Watch, a nonprofit watchdog and advocacy group, hailed the openness directive in a blog post on Tuesday: "This first step, the instructions to the agencies, has gone well. Now our work must focus on ensuring the next step, implementation by agencies, goes equally well and produces substantive change.