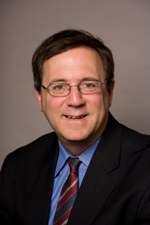 Photo: David Sanger, chief White House correspondent for The New York Times
Technology plays a vital role in President Barack Obama's effort to remake the faltering U.S. economy, said David Sanger, chief White House correspondent for The New York Times. But the administration will struggle to implement its domestic agenda while coping with multiple foreign-policy challenges.
Sanger, speaking Wednesday at Government Technology's CIO Academy in Sacramento, said Obama's prescription for economic recovery includes a healthy dose of technology aimed at saving money and promoting innovation.
77ef172f401b4ccaa4939356dd231f27
Video: Obama administration reaches out to state CIOs.
"There is a real commitment to using this moment for a transition to clean energy and new uses of information technology. There's a big initiative for computerizing medical records and integrating Medicaid and Medicare systems," Sanger said. "Power grid management will be another area of opportunity."
Tough Investment Choices
But those opportunities carry hefty price tags. Sanger predicted intense debate over the size and focus of technology investments, particularly given the federal government's spiraling budget deficit. Evaluation of technology investments will center on projected benefits over the next five to 15 years, he said.
A complex set of international issues also will compete for the administration's attention -- challenging the federal government's problem-solving capacity. "If the economy was only problem facing Barack Obama today, I think we'd all agree that it's an overwhelming crisis. But it's not even close to the only one," Sanger said. "Afghanistan and Pakistan are going to occupy far more of our attention that we'd like. And [Obama] is dealing with the most fragmented set of international economic challenges since President Roosevelt."
Trade Opportunities
On the brighter side, Sanger sees an opportunity for new technology-based trade with China -- particularly for internationally focused states like California. Suppliers of energy efficient technology and environmental clean-up solutions could benefit from China's need to address a growing pollution problem. He said the Chinese government deals with hundreds of minor rebellions each year in heavily polluted cities and towns, and it could be interested in working with the U.S. to address the issue and acquire environmental technology.
"We missed a huge opportunity over past 8 years, but I think the Obama administration will take it up," Sanger said. "The good news is we are wildly more integrated with the Chinese economy than we would have predicted 10 years ago."
Federal and State Cooperation
Both Sanger and California CIO Teri Takai also noted that the Obama administration appears to be improving relations between federal and state government.
Takai, who introduced Sanger at the CIO Academy, pointed to discussions between states and the federal Office of Management and Budget (OMB) over data exchange standards tied to the tracking of federal stimulus spending.
"OMB actually is reaching out to us. They're asking how states want to participate in transparency and accountability, and how can you make technology work better," Takai said. "We are seeing unprecedented change in the way the white house is looking at technology and the way Washington interacts with us."