The economic desperation of 2009 gave new urgency to the IT cliché of "doing more with less." The notion went from being a routine, laudable government mandate to a survival strategy in local governments that faced gutted budgets and layoffs. Not surprisingly, moving more government services online was a primary solution. Fewer citizens showing up for services at government buildings can mean that fewer employees are needed to provide assistance in person.
Nearly all of the top finishers in the Center for Digital Government's 2009 Digital Counties Survey had new e-government services. However, some local governments reduced costs with solutions that ventured beyond the conventional realm, such as the District of Columbia's Apps for Democracy program, which awards cash prizes to private software developers who create innovative applications using government data. The contest has generated applications worth millions of dollars for very little cost, the district says.
Other solutions stem from troubled times of years past. For instance, Oakland County, Mich., has mature cost-reduction strategies already in place due to an exodus of the state's manufacturing jobs that started during the mid-1990s. Here's a look at some of the notable ways technology filled in the gaps that were opened by layoffs and less funding.
Budget Misery Experts
The budget cutbacks in most local governments during 2009 likely garnered little sympathy among Oakland County employees. They've grappled with a shrinking budget for years and expect their situation to worsen. Analysts predict Oakland County's property tax revenue will decline by 30 percent over the next three years, said county CIO Phil Bertolini. Finding ways to save money is the job of everybody collecting a paycheck from that government, and employees are eager to contribute ideas, according to Jim Taylor, chief of e-government services for Oakland County.
"I think we all feel like a family in Michigan. We're in this budget crisis together. If we can save costs, we can save jobs, and it's better for citizens," Taylor told Government Technology. The county made headlines for a blog forum it deployed in 2009 that lets employees submit their cost-reduction ideas. The project resulted in a $600,000 elimination of annual IT costs. However, Bertolini credits more substantial savings to the government's Clarity Project and Portfolio Management System. The Oakland County Department of Information Technology has cut $7.1 million from its annual budget since 2003, and most of those savings came from nontechnical end-users, thanks to the portfolio management system. The tool lays out all IT projects in a centralized location in a format that displays each project's timeline, tasks, estimated hours of work, budget and a return on investment analysis. Bertolini said it gives staff all the data they need to decide whether to cut a project or keep it going.
"That has immediate buy-in with the business units because they're the ones who are sitting at the table making the changes. It enables them to play a larger role. It's not us coming in and saying, 'Hey, you need to knock off your ninth and 10th priority because we have a budget cut,'" Bertolini said.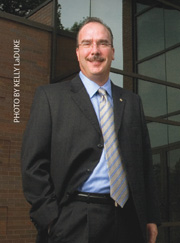 Phil Bertolini, CIO, Oakland County, Mich. Photo by Kelly LaDuke.
Cloud Starts Looking Better
State and local governments have largely kept their distance from cloud computing, the practice of using software hosted by an outside entity. The idea of storing sensitive data offsite usually scares public officials, but staff reductions are warming some governments to the idea. Chris Willey, former interim CTO of the District of Columbia, told Government Technology of his city's deployment of Google Apps. He insisted that the vendor's cloud-computing products have saved
the district millions of dollars.
"Anytime we are deploying a new application, we look first to the cloud," Willey said. "We look to see what cloud services are available before we look to applications that have to be developed or deployed inside our data center."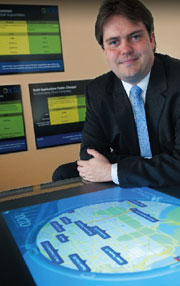 Chris Willey, former interim CTO, Washington, D.C. Photo by John Harrington.
Agencies in the nation's capital created intranets, training videos, online surveys and other tools. Washington, D.C., also used Intuit's QuickBase -- a hosted collaboration tool -- to program several new applications.
"We built 85 applications over the course of about 10 months, and it only cost us a couple hundred thousand dollars," Willey said. "If we were trying to do the same thing using traditional tools, it would have taken years and it would have cost several million dollars."
Bertolini said he spent much of 2009 advocating a particular type of cloud computing he'd like to see deployed in local governments. His idea is that a municipality should each specialize in hosting one type of application and then provide it as a service to other local governments.
"I think it's the only way we're going to be able to survive longer term," Bertolini said. "Somewhere down the line, as governments, we have to stop owning, operating and maintaining expensive technologies. We have to start consuming it from others."
Bertolini said he was open to the idea of vendors performing this service. However, he's not yet comfortable with companies' current selection of cloud computing offerings for human resources, taxes and other primary functions. Bertolini thinks governments would be better suited to offer relevant applications.
"Maybe we host e-health, and a county on the left side of the state hosts an ERP [enterprise resource planning system]. Perhaps there is a county in the northern part of Michigan that could host assessment and tax," Bertolini said.
He figures if counties hosted these applications for one another in a cloud computing arrangement, the applications would only have operational expenses and no capital expenses.
Time will tell if budget pressures motivate governments to try Bertolini's idea.
Crowd Creations
One way to continue innovation on a shoestring budget is to find people who are willing to create applications at prices far below typical vendor rates. A process known as "crowdsourcing" makes this possible. The District of Columbia showed how easy it is in 2009 with its second Apps for Democracy contest. The competition made city data sets available to the public, who used them to craft citizen-facing applications. The winning applications received cash prizes and free consulting from the city's IT staff on how to develop their applications for sale to other local governments. The top $10,000 prize went to a 311 iPhone application for requesting services, like debris removal. Users could also access the services through Facebook.
Willey explained changes the city made after its first contest in 2008.
"We called this one the Apps for Democracy Community Edition," he said. "The first 30 days, we sent field teams out to talk to residents directly and asked them two questions: One, what problems do you think technology can help solve? Second, what would be the perfect platform to get citizen requests to government?
"After that finished, we took all those insights and we gave them to the developers and said, 'Based on this [data] and based on our open 311 [application programming interface] -- which is a way for applications to directly access our call center database -- now go and build applications."
The crowdsourcing trend spread to New York and San Francisco during 2009. Last June, New York Mayor Michael R. Bloomberg announced BigApps, releasing roughly 80 data sets for citizens to package into applications. San Francisco did its own version with DataSF.org. That project didn't include a prize, but it aimed to post links to the notable applications for download off the city's portal.