Photo: Yonkers, N.Y., mobile command center.
Last week the Yonkers, N.Y., Fire Department (YFD) commissioned two trailers at a press conference attended by the city's fire commissioner, Tony Pagano, and Mayor Phil Amicone. One is a training simulator that can place firefighters in live burn scenarios during training sessions and other is a mobile command center.
The mobile command center will serve asset for all emergency response agencies within the city in the event of a large scale emergencies such as major fires, industrial disasters, weather events or possible terrorist attacks.
The mobile command center contains a dispatch center, a field command center with streaming video capability accessible by multiple agencies, interoperable communications for multiple talk groups and an onboard power generator. The dispatch center will serve as a backup for fire department operations utilizing phone lines or a satellite receiver with room for up to four dispatchers. The field command center provides a multi-media conference room for key personnel to meet on the scene complete with streaming video from multiple onboard sources (Mast Camera, Microwave receiver, Specialty Cameras) in order to keep other city offices apprised of what is happening in the field. The trailer can also receive video from helicopters operated by county police and others.
The trailer uses an ACU - Mini to create up to three separate talk groups or can seamlessly connect up to six separate frequencies to connect the fire department, police officers, emergency management services, the office of emergency management and hospitals. The trailers full communications equipment includes the following:
An interoperable gateway
An ACU-mini
A four-workstation dispatch center with computers & radios

On Spot chains

Three slide-out modules

A 20 KW Generator

A Shore power connection

Thirty AMP Nite service connections

An I/O Panel - HazMat Entry Link RX 
A Night Scan - Light Tower and a weather station
Other equipment in the trailer includes a 40" Plasma w/ Smart Board overlay, a 32" LED (2); On Air TV Antenna; DSS Satellite receiver (2); Tracstar satellite system; Microwave receiver, eight Voice over IP Satellite phones, two Tellular modems, a DVD player; a DVR/VCR recorder and a 42' mast with a pan-tilt-zoom camera.
The mobile command center cost $520,000 and was funded through the City of Yonkers 2007 Capital Improvement Program and was manufactured by MBF Industries out of Sanford, Fla.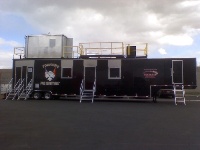 Photo: Yonkers, N.Y., 'live-burn' firefighter training simulator.
The firefighter training simulator cost $400,000 and was funded through a grant from the Federal Emergency Management Agency.
The new trailer will enable Yonkers firefighters to practice live burn drills, a capability the department has not previously had. The 53' trailer provides the following:
Flashover/rollover recognition and prevention training
Interior fire attack
Exterior fire attack
Direct and indirect attack
Fire behavior
Search and rescue
Vertical and horizontal ventilation
Basement fire with staircase access
Firefighter "Get Out Alive" Training
Vertical confined space training
Thermal Imaging camera training
The trailer has the following features:
o On-board 160 gal liquid Propane supply
o On-board generator and smoke machine
o Two burners
o Flashover/Rollover Simulation burner with integrated ignition system
o Multiple room configuration
o Basement Prop (below grade fire attack) a
o Roof top ventilation prop
o Roof top safety railings
o Operator control room with observation
o Automated controls with touch screen (human interface touch panel)
o Color screen with data tracking and gas / temperature monitoring
o Operator controlled flame height and extinguishment with three flame modes
o Safety Interlocks
o Pneumatically raised roof prop with two positions
o Heavy duty OSHA compliant railings and stairs
o Automatic shut down
o Thermal Imaging Camera compatible