A volunteer success story emerged from the devastation of the fall 2007 wildfires that engulfed 1,500 homes and charred 500,000 acres in Southern California.
Affiliated volunteers - people with formal roles with organizations - arrived in large numbers to work at shelters and in medical functions, while improved management and training helped harness the power of other "spontaneous" volunteers. The outpouring of money and help ensured a better-coordinated disaster response than at the Gulf Coast following Hurricane Katrina. In total, more than 10,000 Californians registered to volunteer in response to the fires.
But the after-action report conducted by the San Diego County Office of Emergency Services revealed there were still cracks in the system - one was the need for enhanced communications and better working relationships among volunteers and donation agencies. The report highlighted a critical point: Volunteers themselves are important during disasters, but a bigger piece is how they are managed.
That's why the state stepped in. In February, Gov. Arnold Schwarzenegger created a Cabinet-level office of volunteer management and appointed Karen Baker, former executive director of the state commission CaliforniaVolunteers, as the new secretary of service and volunteering.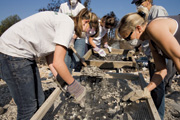 The efforts of affiliated volunteers, such as American Red Cross volunteers, will be more coordinated in California.
The office will fill a gap by coordinating with the array of volunteer groups in all sectors statewide. Never before in the United States has a governor's commission been elevated to a Cabinet role.
"It was really the disasters - the fire and [the 2007 San Francisco] oil spill - that showed the governor firsthand the government can't do it alone," Baker said. During both disasters, volunteers came in droves, but volunteer management needed improvement.
In her new role, Baker continues to lead CaliforniaVolunteers but now wields greater influence and more responsibility.
The executive order also gave CaliforniaVolunteers control of disaster donation coordination, which was previously shared with the California Governor's Office of Emergency Services (OES).
By redirecting funding and positions, the changes proved to be budget neutral.
"I think it's something in the volunteer and service world that folks have really wanted," said Kristen Haggins, California's program director of the Corporation for National and Community Service, the federal agency that provides grants to state volunteer commissions and administers national service programs, including AmeriCorps, Senior Corps, and Learn and Serve America.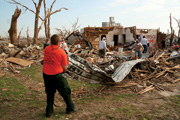 Each year, volunteers contribute millions of hours serving in various capacities, and having an online registry helps streamline coordination efforts.
Major Initiative
California's network of autonomous volunteer organizations that respond to disasters makes up the muscle behind the state's volunteering power. "Recent events show that Californians are ready and able to respond," said Henry Renteria, director of the OES.
Renteria and Baker recognize the importance of volunteerism in emergency management. A major CaliforniaVolunteers initiative is improving statewide coordination of volunteer activities through standardized training and creating a common language, Baker said.
"The service world, the volunteer world and the emergency management world - we're all trying to connect," Haggins said.
It's especially important to coordinate roles and forge good relationships before a disaster, she said, because volunteers expect to have appropriate roles and be shown that their service is valued. "In an emergency, there's not always time to make that happen," said Haggins.

Also important to the commission is the more efficient use of spontaneous volunteers who've traditionally been difficult to depend on, train, keep track of and certify.
However, even affiliated volunteers can be
hard to bank on. One in three affiliated volunteers do not return after one year, according to the Corporation for National and Community Service report, Volunteering in America: 2007 State Trends and Rankings in Civic Life.
But in a state that experiences wildfires, earthquakes, winter storms, droughts and man-made disasters, there's no question volunteers make a huge contribution. In 2006, 6.5 million Californians performed an estimated 859 million hours of volunteer service - valued at about $17.4 billion, according to the executive order issued by Schwarzenegger in February 2008.
Even with those big numbers, California ranks No. 38 among all states, with 25.5 percent of the population volunteering, according to the Volunteering in America report. California's volunteer rate has increased notably since 9/11; most states have seen a similar trend.
When asked about the commission's efforts to increase volunteer participation, Baker pointed to the commission's sophisticated, statewide online volunteer matching system, which is the nation's largest.
The network, which connects people with local volunteer opportunities by location and interest, helped deploy 3,000 volunteers almost immediately following notification of the San Diego wildfires, said Marta Bortner, communications director of CaliforniaVolunteers.
Bortner said the volunteer match capability, unveiled in October 2006, removes barriers to service and has helped increase the commission's Web-based referrals by 500 percent.
The Web site will assume a larger presence with the commission's new role as a donation collector during disasters. The added responsibility is logical, Bortner said, since the commission's Web site can serve as a hub to visit during a disaster.
"When a disaster strikes, [Californians] have a strong drive to help," she said. "Whether Californians have something to donate or time to donate, they know they have someplace to give."
Disaster Summits
Following the Feb. 26, 2008, announcement, Baker embarked on a 30-city, statewide listening tour to coordinate with and engage the field level. Eight disaster summits, also part of the tour, were designed to strengthen volunteer coordination.

"One of the things during the summit is that when they came to San Diego, they wanted to augment the system that's already in place," said Leslie Luke, group program manager of the San Diego County Office of Emergency Services. Luke, a San Diego summit attendee, said the commission aimed to learn how the state can better support the existing web of local governments and organizations responsible for volunteers. She said it was a welcomed pledge of support.
Each event served as a forum for sampling workers from fire, police, local watch, state and tribal governments, and private and nonprofit organizations.
"It was the first time local government and the whole volunteer world were brought together to talk about how they want to work together from a playbook," Baker said.
Baker said she wants to strengthen state and local linkages, which haven't been strong enough previously.
The summits wrapped up in San Francisco on April 3, but Bortner said the commission will remain engaged with local partners by conducting local working groups across disciplines and will take information gleaned from the field to form a three-year strategic plan.
Expanding CaliforniaVolunteers
CaliforniaVolunteers has had three name changes over three administrations since its inception in 1994. Under a federal law passed in 1993, each governor must oversee a commission that administers the AmeriCorps program, the service program for Americans ages 17 and older. Known initially as the Commission on Improving Life Through Service, the commission was renamed CaliforniaVolunteers by Schwarzenegger in December 2006.
The role of CaliforniaVolunteers has evolved from its original charge - administering the AmeriCorps program - to a broader emergency management role.
Post-9/11, CaliforniaVolunteers made its first foray into disaster management by assuming authority over the newly established Citizen Corps, which coordinates in-state volunteer activities to better prepare for emergency
response.
A 2006 executive order by Schwarzenegger established the commission as the lead agency for disaster site volunteer coordination and created a role in disaster-related planning and response efforts.
Since then, CaliforniaVolunteers has worked closely with the OES and the California Governor's Office of Homeland Security to fulfill its volunteer management role during disasters.
"The [idea is] to get the volunteer world to meld nicely with the emergency management world," Haggins said.
She said the Cabinet-level post will further strengthen and reinforce the commission's role in emergency management.
In 2009 and 2010, CaliforniaVolunteers will also help shape the roles and responsibilities of entities involved in disasters through the State Emergency Plan, said Sharron Leaon, director of the commission's Disaster and Emergency Management Department. This will be the first time CaliforniaVolunteers will help mold the plan, since the current plan was developed before the commission formed.
Renteria said moving CaliforniaVolunteers toward a larger emergency management role has let the state OES focus on disaster response.
Positive Change
First lady Maria Shriver, honorary chairwoman of CaliforniaVolunteers, helped urge the governor to establish the Cabinet-level post.

Haggins said Shriver is a vocal advocate for volunteerism; on the TV show American Idol Gives Back, Shriver prompted viewers to volunteer and promoted CaliforniaVolunteers.

In April, Shriver and CaliforniaVolunteers launched a pilot program in Los Angeles called WE Prepare, which offers disaster-preparedness tools, such as a children's story, a fill-in-the-blank family plan and a risk assessment, which are designed to motivate families to take action. If the program is successful, it could be introduced to a wider audience.

"The most exciting development is there are all these new entities and new nonprofits that suddenly feel like they have a place at the table," Baker said. "New people are weighing in on how the state responds."

But the busy new secretary said, "That doesn't mean we're not exhausted by it."