Manor, Texas, isn't notable for much, except that it's where the famous movie What's Eating Gilbert Grape was filmed. But don't be fooled by pickup trucks and cow pastures. The city of 5,000 people is using a relatively new technology that lets anyone with a camera phone instantly access information about local points of interest.
"As far as I know, we are the first town in America to do this," said 22-year-old Dustin Haisler, the CIO of Manor.
Haisler, who also serves as city secretary and associate judge -- he takes defendants' pleas and issues judgments and warrants -- was referring to Quick Response (QR) codes, which are two-dimensional bar codes similar to what's found on a FedEx envelope. Manor placed them at various spots around town.
QR codes are an arrangement of squares, as opposed to the traditional lines used in supermarket bar codes. The squares encode information horizontally and vertically, making them able to store more information than traditional bar codes. Aided by downloadable, free software for mobile phones, users can snap a photo of a QR code, which then directs them to a Web site for more information.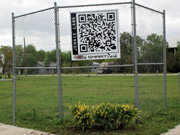 Haisler, who is also a student at LeTourneau University, is the mind behind the introduction of QR codes and is part of Manor's larger effort to streamline its infrastructure on a shoestring budget by beta testing products and using open source software. "We use things that are open source, that are free and available that we can expand," he said. "When we beta test things, we can say, 'OK, here is what needs to be fixed for your end-user.'"
View Full Story